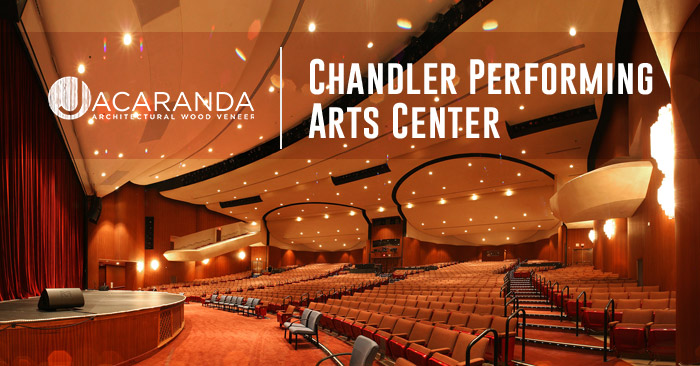 Chandler Performing Arts Center in Chandler, Arizona, will soon be celebrating its 30th birthday. Designed as a shared facility for the school district and the city, the Center features a 1,500 square foot exhibition gallery and three theaters. The exhibition gallery features rotating sections, which create two smaller spaces: the Hal Bogle Theatre and the Recital Hall.
The Center has hosted numerous events over the years, including:
Broadway and theatre productions
Classical music
Classic rock
Country, folk and Irish music
Comedy and satire
Dance
With a diverse range of innovative and classic performances, the Center offers an extensive selection of relevant and inspiring cultural experiences. Because the Center believes that art can transform and bridge gaps, they strive to improve accessibility and offer educational resources and opportunities throughout the community. Its superior acoustics have made it popular with artists and visitors alike.
Jacaranda, Inc., is proud to have worked together with some of the world's most elite acousticians, designers and architects to bring the vision for the Chandler Performing Arts Center to life. Jacaranda Wall Coverings have stood the test of time along with the Center's vision, which is to bring the unifying force of art to people from all walks of life.
Since its opening in 1989, the Center has been used by thousands of school children and community members. One of Jacaranda's premier projects, it features Sapele SanFoot wood veneer wallcovering throughout the center. Sapele is a popular alternative to mahogany. It's plentiful in Sierra Leone, Uganda, Angola and other parts of western and central Africa. Sapele has rich, red heartwood with lighter-colored sapwood. The trees can reach up to 180-feet tall and can have diameters of up to 7 feet. The wood can be cut to display a lush ribbon-like figure, or it can be cut to display a vibrant, three-dimensional pattern. Sapele is a highly sustainable wood with a lustrous, elegant appearance and timeless beauty and is ideal for crafting Sustainable and Durable Wall Coverings.
With thousands of events and many more thousands of visitors and school children using the facility annually, the Center has seen a lot of traffic over the years. The timeless beauty and superior quality of Sanfoot veneer wallcoverings have stood the test of time and traffic. In fact, the Center was renovated with major systems upgraded or replaced, including air conditioning, ADA fixtures, seating, and flooring. The beautiful SanFoot wood veneer wallcovering remained, though. They were on display at the 2010 Grand Re-Opening events, which saw more than 5,000 participants, and they'll continue to add beauty, charm and elegance to this community gathering place for many years to come.
SanFoot's Sapele veneer was installed in 1989 in the Chandler Center for the Arts, and it continues to be installed in world-class educational facilities and performing arts centers around the globe. SanFoot veneer is specially crafted to maximize the yield of each log and is thin and flexible enough to install on curved walls, columns and corners. Jacaranda Wall Coverings feature a highly impact-resistant coating that can help it stand up to heavy daily use while preserving its unparalleled beauty. Jacaranda offers an extensive selection of Sustainable and Durable Wall Coverings with more than 100 exotic, recon and domestic species from which to choose.