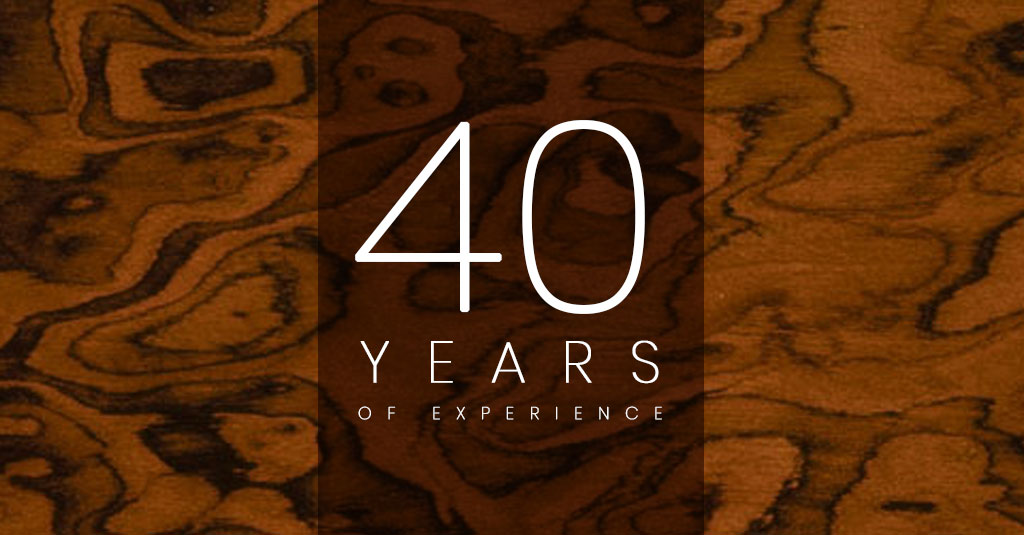 Jacaranda has been crafting green building products for more than 40 years. It all started when our founder, Dan Whittelsey, Sr., began exporting veneer quality logs from Central America. The region rarely produced entire logs, but it did offer dimensioned lumber, which was highly prized by Japanese company Hokusan. Hokusan used the lumber to craft exotic sheet veneer, which Whittelsey brought back to the U.S. By 1984, Whittelsey and Hokusan had teamed up to create Jacaranda, named after Brazilian Rosewood. Since then, they've revolutionized the process of creating natural wood veneer products and offer an extensive selection of veneers as well as numerous customization options.
Jacaranda Wood Veneer
Composite or recon veneer is crafted using consistently available species from responsibly managed forests. It can be stained and dyed as desired with a grain that can be manipulated to achieve the desired look. The thin slices of wood are then bonded to a secure underlayer for ease of application. They are often designed to simulate the look of rare or exotic woods but can be completely customized according to your needs.
Jacaranda's composite veneers are designed for beauty, strength and durability. We offer more than 100 species, with both conventional and recon veneers, and we work closely with our clients to ensure the best results and complete satisfaction. Our stellar reputation and superior products have led to Jacaranda being featured in some of the world's most recognizable establishments, including hotels, restaurants, educational facilities, public buildings and retail businesses. Our veneer is used in wallcoverings as well as ceilings, millwork, doors and architectural panels.
Real Wood Veneer: A Turnkey Solution
Available composite veneer products include:
SanFoot
Our foundational product, SanFoot is installed just like a vinyl wallpaper. It's made in large-sequence runs with end-matching capabilities, so it's perfect for installation on large walls or ceilings. The unique five-ply construction ensures maximum flexibility while the double poly coating gives it a soft sheen and reliable durability.
RealTec
Made from the same AA architectural grade veneers, cuts and colors that SanFoot is, RealTec ensures you can enjoy beautifully figured sheets with unmatched consistency.
FineTec
These architectural grade veneers are designed to simulate scarce and exotic species. With these veneers, you can enjoy the beauty of rare and expensive woods without sacrificing either your budget or the environment.
TransTec
This revolutionary real wood veneer product uses wood that is sliced so thin that light can pass through it. TransTec is applied to a special backing that makes it the perfect material for backlighting, light diffusing, and similar applications. The results are breathtaking!
Jacaranda
Each one of our fine veneer products is created using large sequence runs with a variety of matching options. The 5-ply flexible construction can be applied to curved contours, such as walls, columns and radius corners, and can even be wrapped around 90-degree corners. Custom finishes and stains allow for nearly endless personalization options. Contact our team today to learn more about Jacaranda wood veneer or to schedule an appointment with a member of our design team.