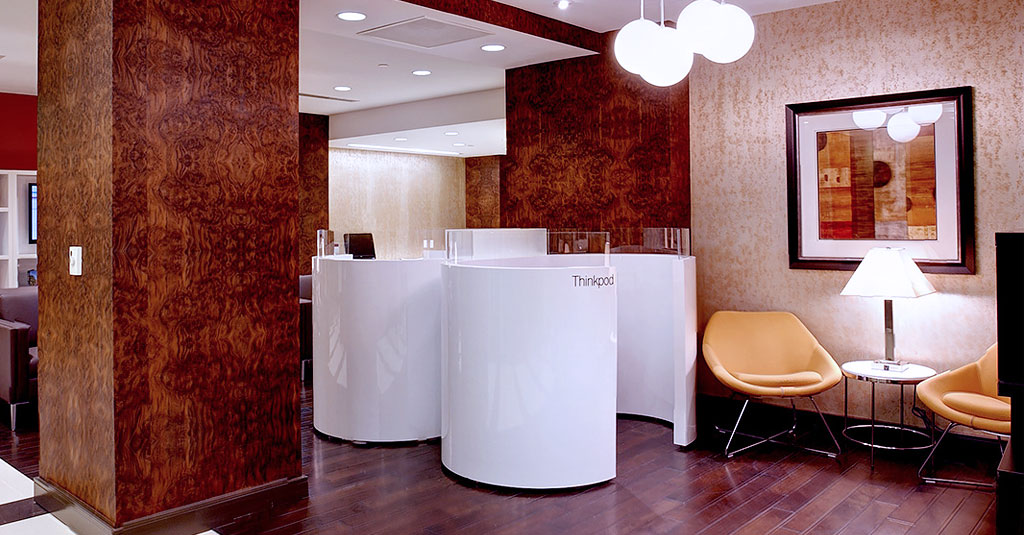 The hospitality industry has made both a business and an art out of hospitality, welcoming their customers and clients with respect and graciousness. It's no wonder, then, that this industry is growing exponentially, with more than 500,000 jobs in the hospitality industry in the U.S. currently and more added every day.
Several types of businesses can be considered part of the hospitality industry, including restaurants, bars, leisure travel, tourism, lodging, casinos and entertainment venues. For these businesses, welcoming guests, clients and customers means getting off on the right foot. Those first impressions count, which is why Jacaranda works hard to make sure your clients get the best impression the minute they walk through the door.
Jacaranda offers real wood veneer wallcoverings that can enhance any hospitality business. In fact, our wallcoverings and veneers can be found in some of the best-known hotels and most prestigious restaurants and casinos in the world, including:
Marriott Hotels
Hilton Hotels
Hyatt Hotels
Starwood Hotels
Holiday Inns
Renaissance Hotels
Caesars Palace
MGM Grand
The Monkey Bar in Las Vegas
The Club at Brickell Bay
Le Meridien Hotels
We are proud to be at the forefront of interior design in the hospitality industry. SanFoot and other premier Jacaranda products have been installed in thousands of restaurants, hotels and other hospitality facilities across the globe. SanFoot wood wallcovering is versatile enough to be used in nearly any application, including doors, walls, ceilings, reception counters, millwork, columns, accents and lighting.
Jacaranda's SanFoot wood wallcovering is designed for flexibility, with thin sheets of wood bonded securely with a flexible underlayer. It can be installed just like vinyl wallpaper, and unlike solid wood, it can be attached to curved and contoured surfaces, such as walls, columns and reception counters. SanFoot is available in more than 100 species and a variety of patterns and features.
All SanFoot wood veneer wallcovering sheets are Class A fire rated, and they're available in a wide selection of species, including maple, oak and sapele. Cuts, patterns and unique figures are all available. You can choose from a variety of quality wood veneer wallcovering options, including:
RealTec, which ensures consistently figured sheets
FineTec, which is reconstituted real wood veneer designed to resemble scarce and exotic species
TransTec, which is a revolutionary design that is thin enough for light to pass through for a variety of backlighting and diffusion options
All of our wood can be stained or dyed to achieve your chosen look, and the veneer sheets come pre-finished with a standard 30 percent sheen polyurethane coating, which adds protection and shine. Custom finishes are available for greater shine and impact resistance, which can be especially useful in high-use areas such as hallways and elevators.
We are proud to work with interior design in the hospitality industry, and we can help you choose the best real wood features for your establishment. Contact us today to learn more or to schedule an appointment with a member of our design team.