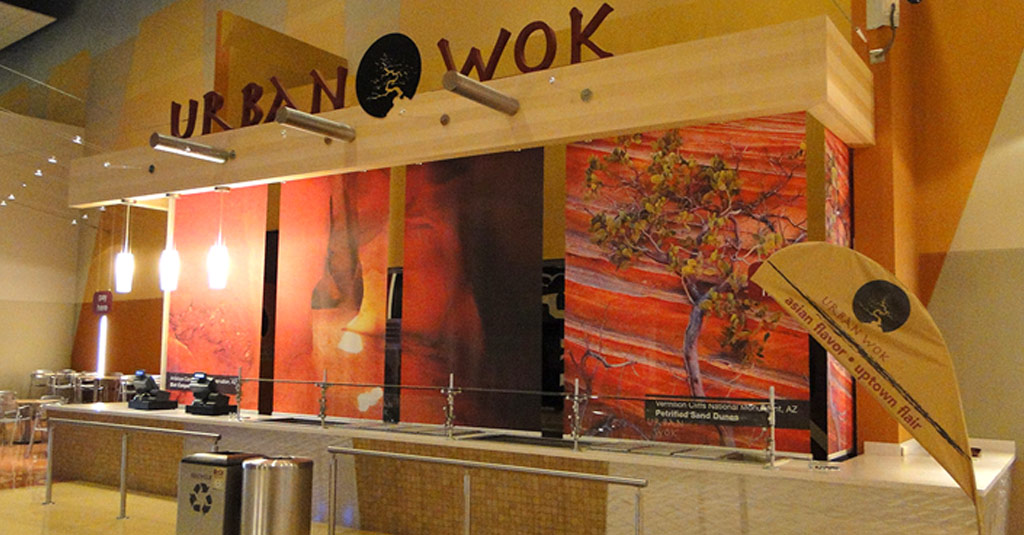 Wood is the original green building material. In fact, it's the only renewable construction material and is known for its thermal and acoustic insulation and fire and moisture resistance. Wood buildings can last many decades, and few materials can compare with wood when it comes to beauty and versatility. For all these reasons, many retailers opt for wood when building and furnishing their establishments. Jacaranda crafts fine real wood veneer products that can be used as wallcoverings, reception desks, architectural panels and more.
SanFoot, TransTec, FineTec and SanPly wood veneer wall panels grace the walls of many premier retail establishments around the world, including:
Wella Salons
Lane Furnishings
Anne Klein Handbag Showroom
Chaps Men's Store
Saks Fifth Avenue
Nordstroms
Cole Haan
Cobb Town Center Mall in Georgia
Babies-R-Us
Elizabeth Arden Salons
Our real wood wallcoverings are ideal for use in groceries, department stores, malls and boutiques, and you can choose from walls, ceilings, columns, architectural panels, millwork, doors, cabinetry and custom furnishings as well as lighting and accents. All of our versatile products can strengthen your establishment's brand and add style and a luxurious feel to your surroundings.
Jacaranda has been crafting wood veneer wall panels and other wood-based products for more than three decades. Our natural wood veneer is available in many species, cuts, designs and patterns. We carefully choose high-quality wood with a high yield while minimizing environmental effects. Our patented cutting process triples the amount of veneer we can get from each log, reducing the number of trees needed to create the same amount of product.
Jacaranda also uses special techniques and tools to recreate the beauty of the exotic and rare species that are so much in demand. Not only does that enable us to bring consistently beautiful and environmentally friendly rare and exotic woods to your business, but it also makes it possible for us to create designs and colors that cannot be found in nature.
Our veneers are made using a revolutionary process that incorporates five plies for maximum strength and flexibility. The wafer-thin wood is attached to a moisture barrier to protect against dampness. Our durable impact-resistant coating will protect the wood from damage even in the highest-traffic areas, preserving your investment and keeping your business looking fresh and well-maintained. The final product is so flexible that it can be applied easily to columns, 90-degree angles and anywhere else you want it.
Jacaranda is proud to be a member of the U.S. Green Building Council and is committed to developing sustainable, environmentally responsible building materials and manufacturing methods. SanFoot and our other veneer products are Class A Fire Rated, which means that it releases heat quickly and has the highest flame resistance available. Whether you choose our luminous TransTec, which is so thin that light can pass through, or FineTec, which simulates rare burls and one-of-a-kind patterns, you can be confident that our products will enhance and add value to your retail establishment. Visit our website today or contact us to learn more.