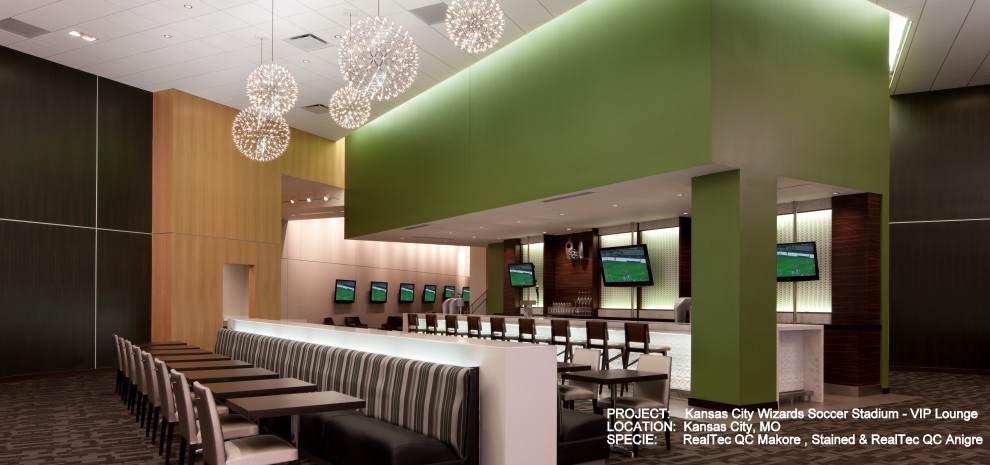 RealTec® is a natural wood wallcovering with a beautiful, consistent "fiddle-back" figure. Previously, determining if a veneer would have the eye-catching "fiddle-back" figuring was impossible before cutting into the log. It was only once the log was sliced that we could spot the figure, and even once the figure was uncovered, there were no guarantees of pattern consistency or quantity. Our revolutionary technology enables us to craft fine wood veneers with this coveted figure with consistent patterns, plentiful availability and numerous species.
We use a one-of-a-kind proprietary process to transform quarter-cut wood veneer using standard, readily available wood species. During the process, the wood is physically altered, which means that the distinctive figure cannot be sanded out and that it can be safely stained and dyed without negatively affecting the pattern. Each sheet is carefully replicated with attention to detail ensuring consistency and beauty and then prefinished using two coats of high-quality polyurethane for protection and a 30 percent sheen. Custom elite finishes and a variety of stains and dyes are also available. Our wood wall coverings can then be applied just like a vinyl wallcovering and can even be adhered to curved walls and angles, making it a versatile solution for the hospitality industry, corporate buildings, educational facilities, the healthcare industry, public spaces and more.
Featuring the largest number of figured and sequenced sheet wood veneer wallcoverings in the industry, RealTec® is available in both SanFoot and SanPly products. Check with your local distributor for availability of species.
Jacaranda, Inc. provides top-quality Environment Friendly™ products in a vast array of species and rainbow of colors. We strongly support responsible, sustainable manufacturing methods that ensure high yields, minimal waste and limited environmental effects. When choosing lumber for our fine wood wallcoverings, we carefully select specific trees from old growth forests. This makes room for younger, more robust trees and creates a healthier overall forest environment. We also use plantation-grown trees, ensuring a plentiful supply of many species. Species that are abundantly available can be reconstructed or altered to create more exotic-looking species or unique patterns, colors and figures. We have even developed a patented process to maximize the yield of each log, increasing it by 300 percent, so that we can get more veneer from a single tree.
As with all SanFoot products, RealTec® is class A fire rated, and all faces are architectural-grade real wood. Each veneer sheet is sequenced from the same flitch and numbered for easy matching. It is available in standard sizes as well as custom sizes upon request. Ultra-thin veneer sheets are designed for maximum flexibility with a maximum 90-degree side grade bend and a ¼-inch end grain bend.
Contact us today to find out more about our natural wood wall coverings or to schedule an appointment.