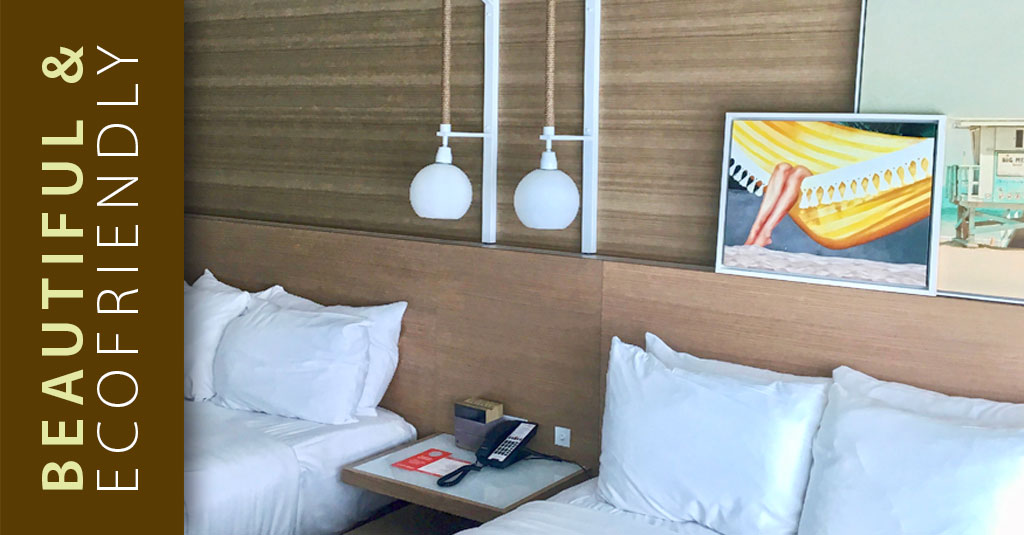 The hospitality industry has seen record growth in the past few years, and as it has grown, it has evolved dramatically. Gone are the days of simple lodgings and cafes: Today, those in the industry must stay on track to meet the needs of a rapidly changing world. Restaurants are catering to more adventurous palates, hotels are creating innovative ways to keep their guests connected with the latest technology, and comfort reigns supreme. In the midst of all these exciting changes, one thing remains the same: wood.
Ecofriendly Options for Interior Design
As the hospitality industry has increasingly sought out new green and sustainable building materials, wood has continued to stand apart from the alternatives. Wood is used in everything from paper cups and napkins to construction and furnishings, so choosing environmentally friendly products and using sustainable sources is incredibly important. This means opting for FSC-certified products, which ensures that wood products were obtained from sustainably managed forests. FSC-certified products are among the best ecofriendly options for interior design.
Wood is not just used structurally. It has many design applications that make it one of the most versatile materials for flooring, furnishings, decor and wallcoverings, such as Jacaranda's SanFoot Wood Wallcoverings. Beautiful interior wood walls can make a customer truly feel at home even when away from home. Hotels need durable materials that can stand up to even the heaviest foot traffic in hallways, lobbies, bathrooms, common areas and even guest rooms. Restaurants need comfortable, aesthetic decor that can be cleaned easily and without damage. Clubhouses, spas and more can also benefit from easy-to-clean, durable decor and building materials. The right wood products can make just about any space liveable, beautiful and highly functional.
Beautiful interior wood walls offer superior aesthetics with lighter, brighter woods creating a sunny, expansive feeling and rich, darker woods creating a warm, lush environment. The right wood can be visually appealing and strengthen your brand. Jacaranda has spent years perfecting the art of wood veneer wallcoverings, and hotels, restaurants and others in the hospitality industry can choose from a wide range of species, stains and features to get the exact look they want. Jacaranda even offers exotic recon species using readily available woods and advanced techniques.
Strength, Beauty and Function
Jacaranda wood veneer wallcoverings aren't just stylish. They're also durable. The wafer-thin veneer is bonded to secure but flexible backings, allowing each sheet to be applied to just about any surface, including columns and corners. Jacaranda's real Wood Wallcoverings are finished with a strong polyurethane coating that offers an attractive luster or brilliant gloss as well as impact-resistance.
Jacaranda offers a wide range of fine wood veneer products, including SanPly architectural faces, TransTec translucent veneer, FineTec's recreated rare burls and exotic features, and RealTec's consistently sequenced figures. Jacaranda's products are FSC-certified, and the company is a proud member of the U.S. Green Building Council. We've added style and sophistication to some of the best-known names in the hospitality industry, including restaurants, hotels, casinos, bars, lounges, cafes and more. Contact our team today to learn more about how we can transform your space for better brand recognition, more comfortable customers and a greener tomorrow.