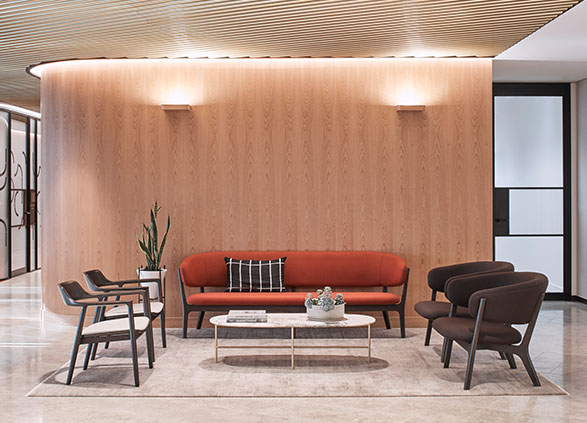 ABOUT THE PROJECT
Yancoal Headquarters
Sydney, Australia
Designer Todd Hammond of Sydney based Hammond Studio says that he finds clients repeatedly coming to him because of his use of timber in design. When talking timber with clients, Hammond starts with tone and character, breaking the choice down into the spectrum from light to dark: "The darks: people can sometimes see them in a conservative way; lighter oaks may be considered more contemporary, but I find that cherry sits perfectly in the middle". This was the approach he took when he engaged by mining company Yancoal, to design their 1800 msq. new office space in the Harry Seidler designed Darling Park Towers in Sydney.
The company, previously based in a more traditional setting in 363 George Street, where they went for a more productive use of their workspace. Like many other companies, their aim was to put staff well-being at the heart of the design. Hammond firstly questioned the old cellular office structure and encouraged his client to locate the enclosed offices near the core of the building. He then looked to maximize the experience of the environment the staff who were not in offices by positioning the main shared workspace towards the outside edge to maximize natural light and views of the harbor.
A very engaged and open client certainly aided the process according to Hammond. Alignment on the wish to showcase natural materials and timber led to not only a unique natural stone floor, exhibiting highly fossilized pieces throughout, but also extensive use of American cherry solid timber and veneers.
ARCHITECT: FDC Group
PRODUCTS:
DETAILS