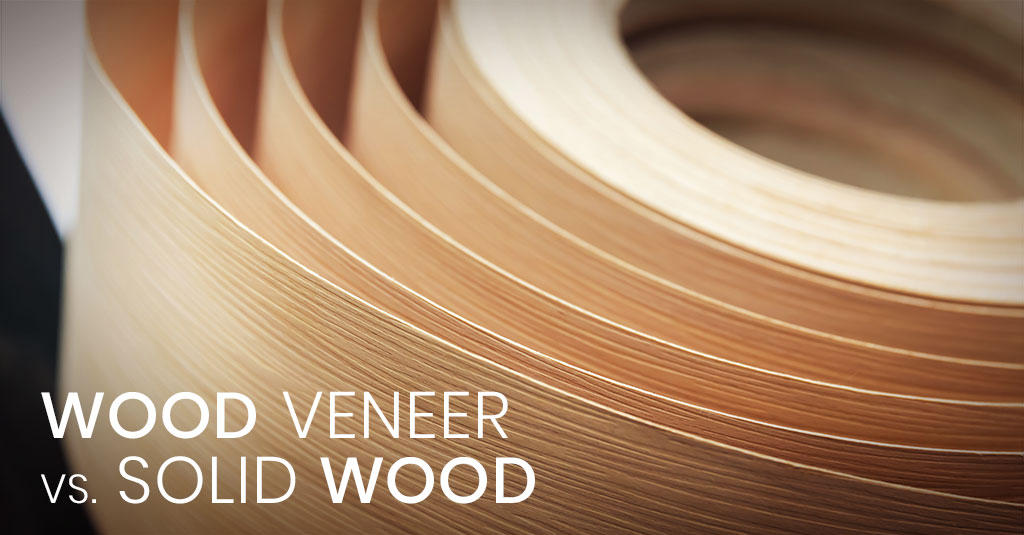 Wood has been used in construction for thousands of years. Architects and designers have created numerous ways to use wood in building materials, flooring, furnishing, wallcoverings and more using a wide range of trees, wood types and cuts. While other building materials have come and gone, none has had the continued popularity or sustainability of real wood.
Three types of wood are used today: solids, engineered panels and veneers. They each are used in specific applications and are used in certain jobs. When a log is felled, it's processed into either solid lumber or thinner sheets called veneers. Any part of the log that can't be used for veneer or lumber is processed into engineered panels of a similar size and thickness.
Solid Wood
Often considered the most highly prized form of wood, solid wood is considered both beautiful and durable. It tends to maintain its value over time and has an aesthetic appeal that creates a luxurious feeling. Because it's made from real wood, each piece is unique. However, wood pieces also tend to be extremely heavy, and they can be especially susceptible to weather-related damage particularly in hot, dry or humid weather, which can lead to cracking and warping.
Veneer
Much like solid pieces of wood, veneers are also made of real wood. Veneering dates back to Ancient Egypt, but today's high-tech methods ensure that we get the most out of each log. To make veneer, the logs are sliced or peeled to create extremely thin layers of wood. The wood is then bonded to a thicker core, creating a product that is as beautiful and stronger than conventional wood. Because they're bonded to secure backing, the veneer will not warp, crack or otherwise suffer from weather-related damage.
Engineered Panels and Wood Alternatives
Engineered panels are inexpensive wood alternatives that help get the most out of each log and can act as a veneer substrate. Plywood and MDF are both examples of engineered panels, and they can be used in a variety of applications that require the strength of wood.
While both solid and veneer wood offer benefits and have some drawbacks, veneer tends to outshine the competition in a few ways. The most visually appealing logs tend to be used for veneer, enabling us to get more out of the log and extend the beauty. Veneer is also more environmentally friendly, requiring less wood for the same amount of product. Finally, real wood veneer is versatile. It can be used in reception areas, desks, columns, millwork, wallcoverings, flooring, ceilings and more for a turnkey decor solution.
About Jacaranda, Inc.
Jacaranda has mastered the art of wood veneer. For more than four decades, we've been offering fine wood veneer and wood-based products for wall, millwork, cabinetry and specialty applications. We offer more than 100 species, including rare and exotic recon species, and can dye, tint or stain your stain, bleach or dye most preferred species to match virtually any interior. We use a patented slicing process that increases the yield of each log by 300 percent, reducing the number of trees we need. Our SanFoot is available in a variety of styles and patterns and is so flexible that it can be applied to curves, corners and columns. Contact Jacaranda today to learn more about our real wood veneer or to schedule an appointment with us.