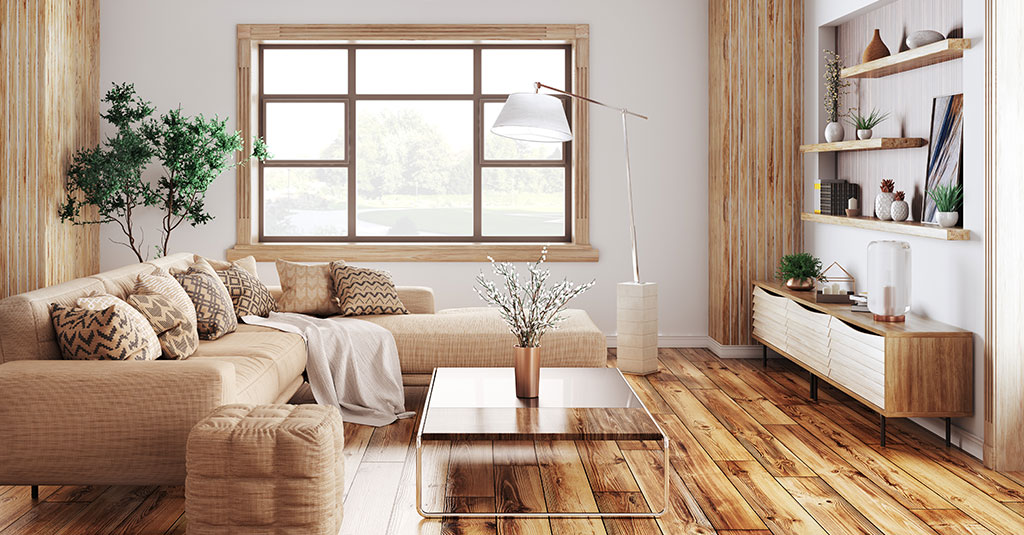 Interior design and wood walls have a long history that dates back to the first wooden homes. However, what we are most familiar with as conventional wood paneling first became a hot commodity in mid-century modern homes. Considered quite stylish at the time, the trend was starting to wind down by the 80s. Once the 90s dawned, paneling had become decidedly dated, and people were painting over it or tearing it down. Today, wood paneling is making a comeback and not in a retro-chic way, either. In fact, modern wood paneling might just surprise you with its sophistication and beauty. Real wood veneer can enhance just about any room or environment whether used as a conventional wallcovering or as an accent wall.
Interior Design and Wood Walls
Wood is a green building material, and it has a warm, organic look that is quite appealing to modern palates. Wood veneer paneling has come a long way from the days it graced our walls alongside built-in appliances, pastel pink baths and shag carpeting. During its heyday, demand often outstripped supply, and cheap composite versions began popping up in place of quality wood paneling. The most inexpensive versions consisted of unsightly fiberboard panels with a printed-on wood design. Ease and accessibility of drywall combined with the unsightliness of the cheap fiberboard paneling may have led to the death of the trend until now.
Modern real wood veneer paneling adds character and charm to a room with intricate, eye-catching patterns and beautiful colors found only in nature. Wood can be either reclaimed or sustainably harvested before being made into paneling. When used correctly, paneling can create a rustic feel, make a room look modern, add depth, create texture and bring visual interest. Real wood walls require no painting and little upkeep, and they're versatile enough to work with a variety of modern and retro decor styles.
Choosing Wood Walls
When it comes to choosing wood veneer wallcoverings for your home or corporate environment, the choices are virtually endless. You can use various species to create the right ambiance or highlight specific features as desired. Pine can add a light and airy feeling to a small room or keep the wood from feeling too heavy or oppressive. Planks can be laid vertically, horizontally or in herringbone patterns to add visual interest. For a more luxurious feel, try maple, mahogany or walnut, which pair well with rich, deep colors. Are you aiming for a rustic look? Try Douglas fir planks in mixed widths or distressed paneling. Caramel-colored species, such as alder, beech and cherry, can add warmth and depth when paired with lighter floors and ceilings.
About Jacaranda, Inc.
Jacaranda offers a wide selection of wood veneer wallcoverings to meet virtually any residential or commercial need. Our veneers are made using real wood sliced extremely thin and bonded to a highly flexible backing for a wallcovering that can be attached to curved walls, columns and even corners. Our SanFoot wallcovering is applied just like wallpaper but offers all the beauty and durability of real wood paneling, and each sheet comes prefinished for a long-lasting and impact-resistant shine. We even offer translucent TransTec, which can be backlit for stunning light features and one-of-a-kind statement walls.
We are committed to environmentally friendly and sustainable harvesting techniques when creating our more than 100 species of veneer. We are proud members of the U.S. Green Building Council and the Forest Stewardship Council. Contact Jacaranda today to learn more or to schedule an appointment with our team.