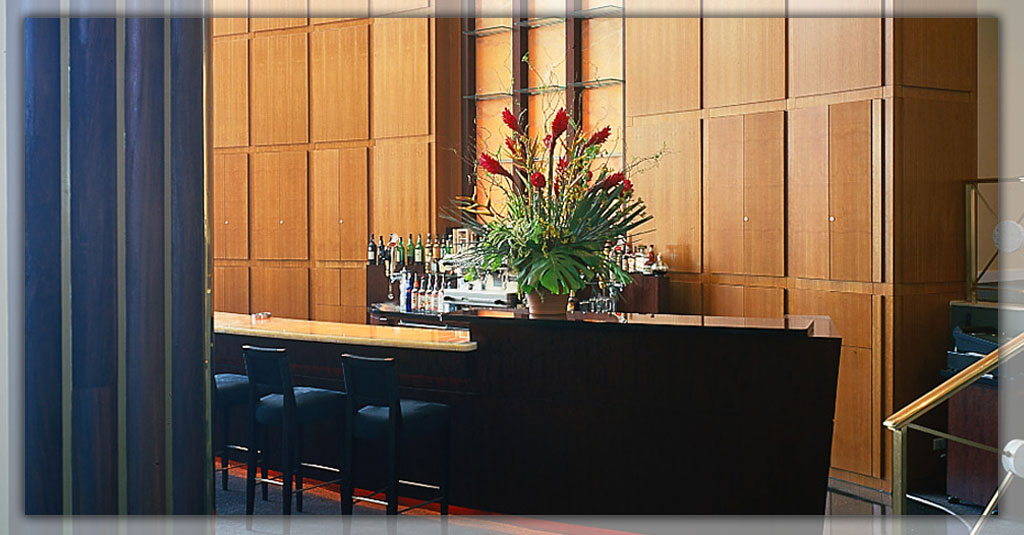 The first timber buildings appeared during the Stone Age, with ancient humans building large communal wooden buildings for gathering and protection. As man's ability to make and use tools advanced, so did their structures. In fact, by the Iron Age, about half of existing woodland had been cleared for timber. Wood wasn't only used for building. Creative people also found ways to use it for furnishings, weapons, tools and even paper. Even today, when many buildings are made of masonry or steel, we still rely heavily on wood as a building material and to enhance our environments. Today's wood has come a long way from the Stone Age, however, and we not only know how to protect and preserve forests for future generations, but we've also found innovative ways to get more from the wood we harvest.
Wood Applications and Interior Design
Wood might be better known for its use in framing and building structures, but its applications for interior design are virtually endless. Going beyond the classic lines of wooden furniture, wood beams, flooring, molding and even walls are all becoming ever more popular as more people realize the benefits of using wood in homes and work environments.
The number of looks that can be created with one type of wood is nearly limitless. The way the wood is cut matters: Certain techniques have been designed to showcase specific features. For example, quarter slice yields a long, straight, even grain while plain slicing is used to achieve an arched "cathedral" from the grain. Wood can further be enhanced through a variety of finishing methods to mimic other materials or to create a one-of-a-kind look.
Wood veneer wallcovering is one example of wood's versatility. To create wood veneer, wood is sliced into extremely thin sheets and applied to special backings. Once the veneer has been cut, it can be stained, textured, smoothed, polished or finished with polyurethane gloss. With the right finishing techniques, you can showcase the wood's natural features, including its grain, knots, burls and beautiful imperfections.
Environmental Benefits of Wood
Some of the popularity of wood design lies in its affordability and simplicity, but wood is also a renewable resource that makes environmental sense. Carefully selected mature trees are harvested, and they can be replanted with younger, healthier trees. Over their lifespans, they absorb carbon, and that carbon remains sequestered even after the tree is cut and milled into lumber.
Wood products are also extremely durable. Not only can a wooden home survive centuries, but the wood used to make buildings can be recycled and repurposed for many other uses, including flooring and furniture. When trees are used to create new wood products, there's virtually no waste. Even sawdust can be transformed as an alternative energy source to power the mills.
Jacaranda Wood Veneer Wallcoverings
As a natural, organic material, wood design makes it easy for you to bring nature into your home or office. It has a warm feel and a luxurious look that can enhance any environment. Jacaranda makes it easy for business owners, corporations, hoteliers, civic groups and others to add wood to walls, columns, reception areas and more. Our real wood veneer wallcoverings are designed for flexibility without compromising strength or appearance. We offer more than 100 species, including recon and exotic species, with unique patterns and vibrant colors. Contact us today to find out more about Jacaranda or to schedule a consultation with one of our design experts.