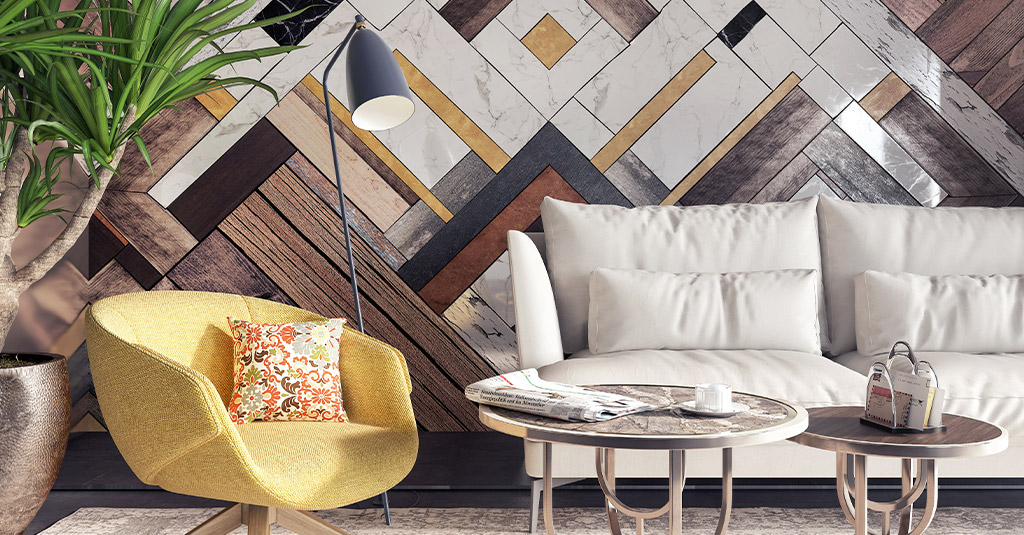 Natural elements continue to be among the hottest design trends for homeowners and interior designers alike. Wood walls in interior design are a consistent favorite thanks to their warm, organic feel and understated elegance. Wood can give your home a rustic, welcoming feel or a sleek, modern look. Either way, you can transform the look and feel of any space big or small without completely redoing it by incorporating a wood accent wall.
Sleek Simplicity
A wooden accent wall can bring your interior alive with luxurious contrasts without altering your existing style, themes or color schemes. With Jacaranda's extensive selection of premier veneer products, you can easily create a sleek, beautiful accent wall anywhere. Our SanFoot is unlike any other wall covering. With the natural beauty of wood and practical functionality, it has just the right touch of style for a stately dining area or reception hall and is flexible enough to be applied to curved walls, columns and radius corners.
Daring Drama
Are you brave enough for a spectacular entrance? Wood walls in interior design can add dramatic visual and textural contrasts to your space. Jacaranda's FineTec is especially suited to this purpose. FineTec is a recon veneer designed to accurately reconstruct scarce and exotic species and rare burls or unique patterns for a luxurious feel without a luxurious price tag. If you're more interested in lighted backdrops, try TransTec, which offers a wide range of backlighting options.
Your Walls, Your Way
A wood accent wall is a deceptively simple style choice. Whether you're looking for an industrial, shabby chic, farmhouse, industrial or tropical feel, wood is the versatile solution. An accent wood wall covering can offer a feeling of lush indulgence or a calming oasis with the right species, pattern, color and finish. No matter how you use it, it will be distinctly yours, a symbol of your space and your brand.
Wood Veneer for Accent Walls
Jacaranda's real wood veneer is available in more than 100 different species, making it easy to create an accent wall that's perfect for your home, whether that's cozy and rustic or sleekly modern with crisp, clean lines. Our AA architectural-grade veneer is available in a wide range of colors, patterns, and cuts so that you can personalize your look to match your existing design scheme. Each sheet comes prefinished with a double urethane coat and a 30 percent sheen. However, you can opt for custom coats, higher sheens, and personalized finishes and stains as well. For a more personalized look, you can choose from figured species, recon veneers designed to resemble scarce and exotic species and translucent veneers for eye-catching backlighting.
About Jacaranda, Inc.
Jacaranda is FSC (Forest Stewardship Council) Certified and a member of the U.S. Green Building Council. For more than four decades, we've offered the original green building product and have patented a revolutionary product that makes it possible to get 300 percent more wood from one log. Today, we're confident that we have one of the most extensive selections of real wood veneer available. Our wood wall covering is easy to apply and suitable for use in retail, hospitality, healthcare, corporate and even educational facilities. Contact us today to learn more or to talk to a member of our design team!