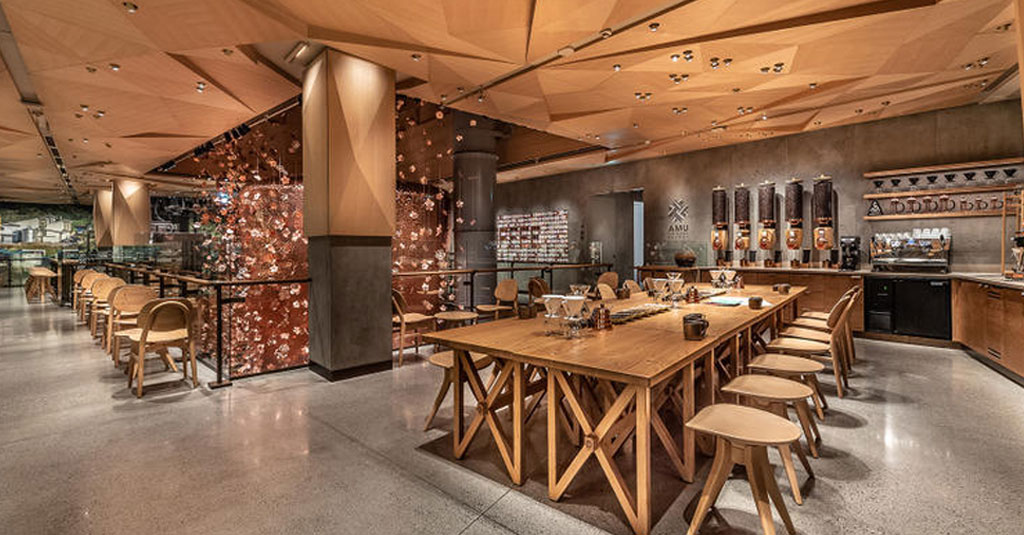 Starbucks recently unveiled its Starbucks Reserve Roastery in Tokyo. This incredible Roastery is the fifth to open globally and offers more than 100 different coffee and tea beverages along with a variety of artisanal food offerings and merchandise. Starbucks originally opened in 1971 in Pike Place Market in Seattle but quickly grew in popularity and location, and its Tokyo Roastery is a four-story celebration of Japanese culture and testament to Starbucks' commitment to the people of Japan. Jacaranda, Inc. is proud to have been a part of this incredible project with more than 53,000 square feet of beech quarter cut veneer installed in all four floors.
The Tokyo Roastery is located in the Nakameguro neighborhood, an eclectic foodie paradise located a brisk walk away from Shibuya and built alongside a picturesque cherry blossom-lined canal. Nakameguro is known as an understated hotspot filled with quirky shops, vintage stores and trendy boutiques. The Roastery was designed to fit seamlessly into this aesthetic with its sleek glass walls and terraced floors that enable its guests to reflect upon the area's plentiful beauty and take a break from day-to-day busyness.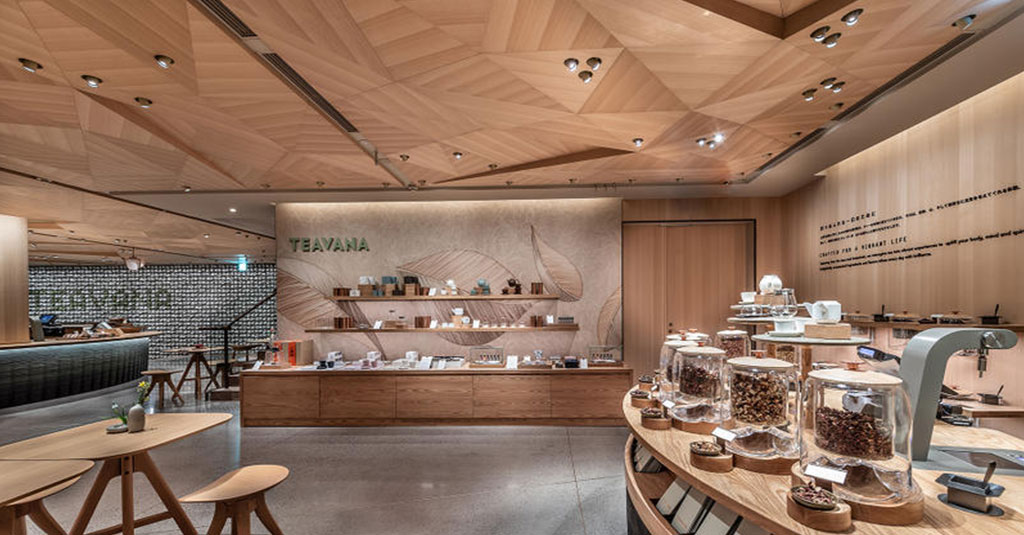 Renowned Japanese architect Kengo Kuma worked with Liz Muller, Starbucks interior design officer, and numerous local craftsmen and women to bring the Roastery's exterior to life. The Starbucks interior design inside the Roastery includes an astounding four-story copper coffee cask bedecked with handcrafted cherry blossoms to match those outside lining the canal. Each craftsperson working on the Roastery played a role in creating the cask, thanks to the Japanese technique of tsuchime copper beating, which involves hammering the copper to creating a characteristic texture and pattern.
The coffee reserve Roastery interior design reflects traditional Japanese architecture with a special focus on the wood-tiled origami ceiling. The origami ceiling uses SanFoot beech quarter cut veneer, which was locally sourced and treated traditionally to prevent aging and preserve its natural brightness and color. The origami pattern reflects light and uses intricate patterns to reveal light, shadows and beauty. The teacup wall is a celebration of the country's culture while the Washi wall celebrates this ancient art form. The top floor of the Starbucks Reserve Roastery Tokyo houses the AMU Inspiration Lounge, an intimate space reserved for hosting special events.
Of course, the architecture and coffee reserve Roastery interior design are secondary to the menu, which also has a special focus on Japanese-inspired fare. The Teavana Bar, which is the largest in the world, includes a floral jasmine tea topped with a hibiscus-cherry popsicle, and the cocktail bar includes a variety of tea and coffee cocktails with a Japanese flair. The site is also intended to offer training for future coffee professionals.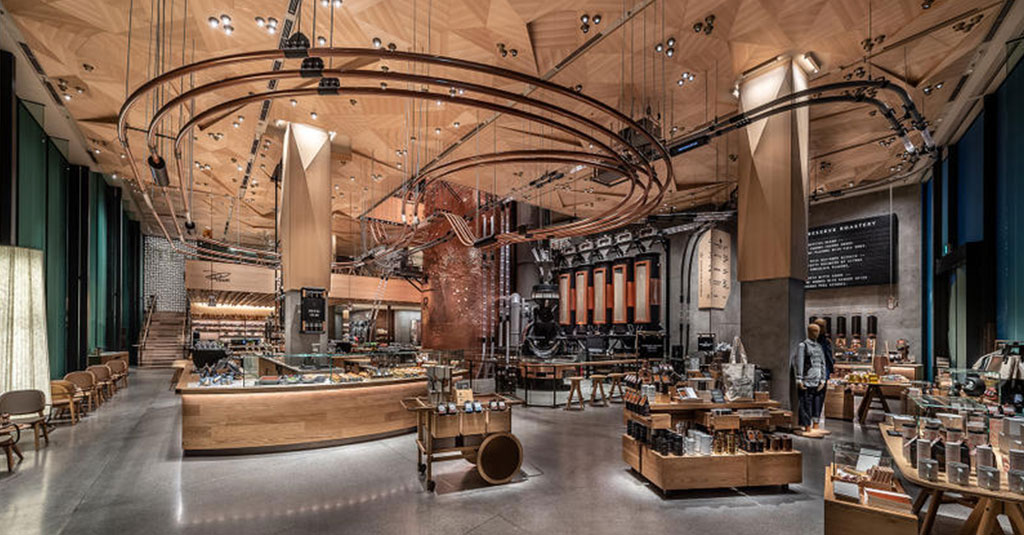 Jacaranda: Interior Design
Jacaranda, Inc. has previously worked with Starbucks at their headquarters in China as well as others in the hospitality industry, including hotels, restaurants and theatres. Our SanFoot real wood veneer wallcoverings and architectural panels can be found in some of the most prestigious establishments around the world. We use only real wood to create fine wood veneer products that are environmentally friendly and versatile without compromising beauty. Our products are VOC-compliant, Responsible Forestry-certified and Class A Fire Rated. Contact us today to learn more or to schedule an appointment with a member of our Jacaranda interior design team.