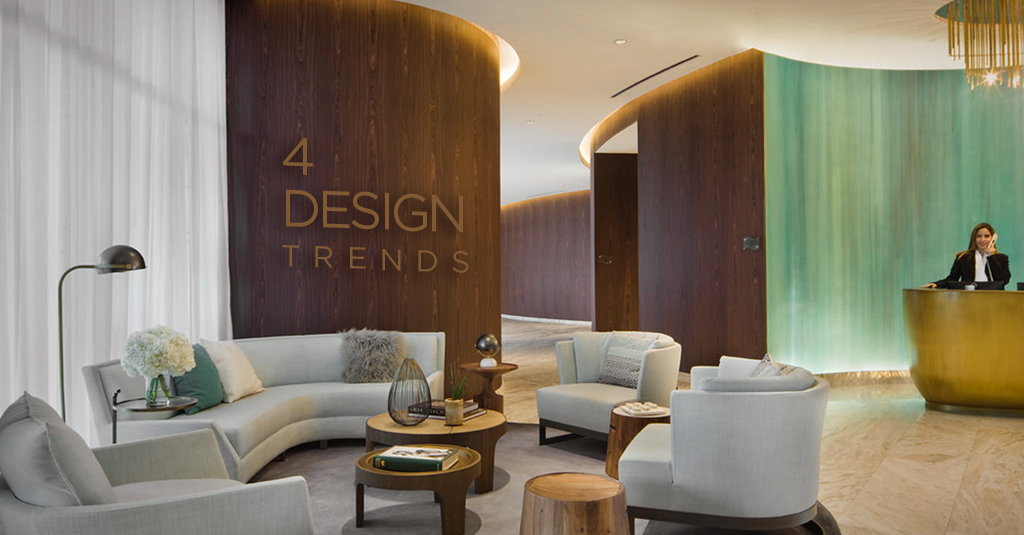 If your idea of wood veneer walls brings to mind a shag-carpeted basement and ornate swag lamps, it might be time to reimagine the possibilities. Today's wood veneer wallcoverings are an eco-friendly design solution with unmatched versatility. Our wood veneer is simple to apply, and the results are breathtaking. Check out these four design trends from My Domaine that use wood veneer to transform your space into something fresh, vibrant, and inviting.
1. Create visual interest.
A classic design favorite, wainscoting refers to a type of wood accent that covers only the lower part of the wall. When first introduced, wainscoting was initially intended to protect walls from scuffs, impacts, furniture damage, and everyday bumps and damage. Today, wainscoting still offers the protection that homeowners and business owners have appreciated for so long, but it is also a beautiful element that can create visual interest or break up the monotony of a large wall. Adding a chair rail, lip, or other decorative feature between the wainscoting and underlying wall can create further visual interest and offer a bit more protection. SanFoot is a versatile wood veneer wallcovering that makes it easy to create exactly the look you want and comes prefinished with a double polyurethane coat for added protection against scuffs and impacts.
2. Stain It.
Wood comes in a vibrant range of colors, from the palest white oak to the deepest ebony. Staining your wood wallcoverings can open up entirely new vistas of colorful options, however, and one of the most dramatic is black. Staining your wood veneers, a rich, deep onyx or sable adds visual depth to the grain and a rich, luxurious backdrop to any room.
SanFoot comes in a wide range of colors, and Jacaranda can customize stains to provide you with an entire rainbow of options from brilliant reds and blues to the darkest jets. Add color, depth, and the warmth of real wood anywhere quickly and easily with SanFoot.
3. Make it modern.
With so many different options for designing with wood, it can be hard to narrow down your choices. This fresh take on a classic favorite might just make that process a lot easier, however. Using SanFoot Unique can give you the ultimate versatility when it comes to creating exactly the look you want, designing brilliant patterns or breathtaking optical illusions using only natural wood veneers to give you a completely unique, modern look.
4. Take it to the next level.
While wood always looks great on the walls, you can take your interior space to the next level by adding wood veneer wallcovering to the ceiling. With a natural wood ceiling treatment, you can completely transform the look of your home or office space. The results are simple yet elegant with a timeless feeling that lends itself well to interiors both classic and modern. Because SanFoot is designed for maximum flexibility, it can be applied not only to conventional ceilings but also to curved ceilings.
Design trends come and go, but wood is timeless. Our wood wallcoverings are made by securely bonding real wood veneers to flexible substrates. You can even apply them to radius corners without excessive stress to the wood. SanFoot applies just like conventional vinyl wallpaper and can add character to any space. Whether your style preference is contemporary, traditional, modern, or something in between, Jacaranda has a natural wood design solution that can make your space exactly the way you want. Contact our team today to learn more about using veneer wallcovering to customize your space or to schedule a consultation with our design team.