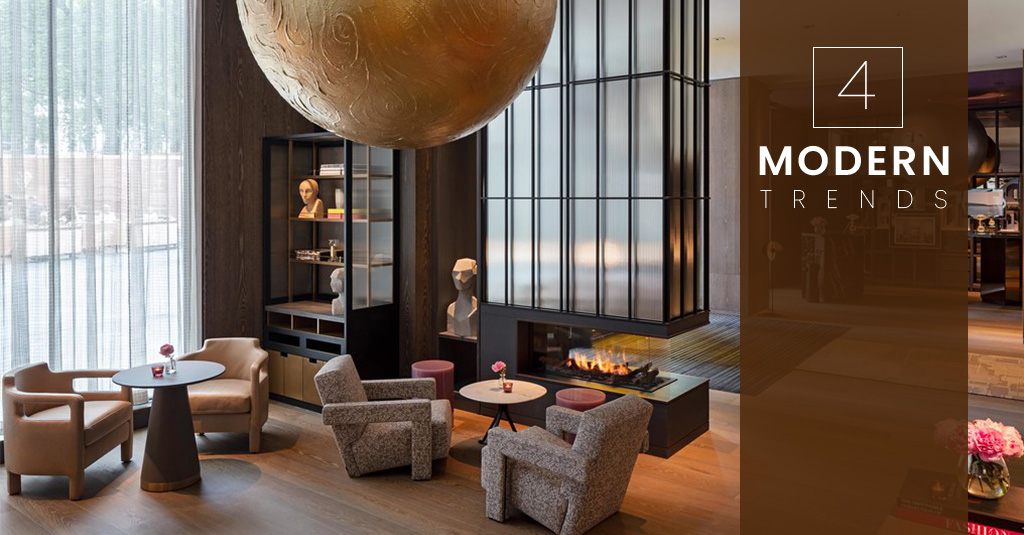 Biophilic design is one of the freshest trends to hit interior design in years. The theory behind it is to connect people with nature. Using wood in our work and living spaces accomplishes this goal beautifully, bringing both physical and psychological benefits. Whether you transform your space with wood wallcoverings or simply add a few touches to your trim and furnishings, trying these new wood veneer trends can help you nurture yourself with nature and bring theory to reality.
Make a statement.
Statement walls have been popular for several years now, but transforming a single wall with wood allows you to make an even stronger statement. Wood veneer wallcoverings are easy to apply, adhering just like vinyl wallpaper and adding warmth, depth, and visual interest to any wall. You can choose from more than 100 species, including rare and exotic recon species, and a variety of stains, colors, and cuts to create exactly the look you want. You can even create unique original designs with Jacaranda's FineTec.
Get creative.
Forget the bland wood walls of the past. Modern wood veneer trends allow us to enjoy woods that are more creative, more visually stunning, and more versatile than anything our parents and grandparents had. Today, wood is available not only in a vast array of species and shades but also dyes and stains. You can choose anything from white oak to rich rosewood and everything in between. A natural stain can highlight the beauty of your chosen wood, bringing out its unique grain patterns. You can also opt for a colorful dye, such as brilliant red or vivid blue, for a stunning, visually appealing look with not just color but also depth. At Jacaranda, our team of color specialists can create any dye or stain to meet your needs and even color-match your chosen veneer to your existing space.
Brighten the mood.
Poorly lit spaces can contribute to depression, difficulty concentrating, and mood disorders. The right amount of light can boost your energy and your mood. Add more light to your space with TransTec, a wood veneer sliced incredibly thin so that light can pass right through. TransTec can be applied to walls and ceilings or used with light fixtures for a beautiful glowing space with endless backlighting capabilities. The possibilities are endless with only your imagination as the limit.
Be bold.
Painted ceilings have been getting a lot of attention recently and for good reason: They pack a powerful visual punch. A bright ceiling attracts the eye and can alter our perception of the room's dimensions, making it feel taller or cozier than it is. Paint isn't the only way to add visual interest to a ceiling, however. Our wood veneers are easy to apply anywhere, including ceilings. SanFoot doesn't need any special tools or application methods beyond what you would typically need for vinyl wallcoverings, and it can even be applied to curves and corners.
Few modern trends have as much holding power as wood, and at Jacaranda, we are proud to make wood veneer products that are strong, durable, and beautiful. Our wood veneer wallcoverings are made using real wood and are available in a variety of cuts, colors, and styles to meet your unique needs. Contact us today to find out more about incorporating the latest wood veneer design trends in your space or to schedule an appointment with one of our consultants.