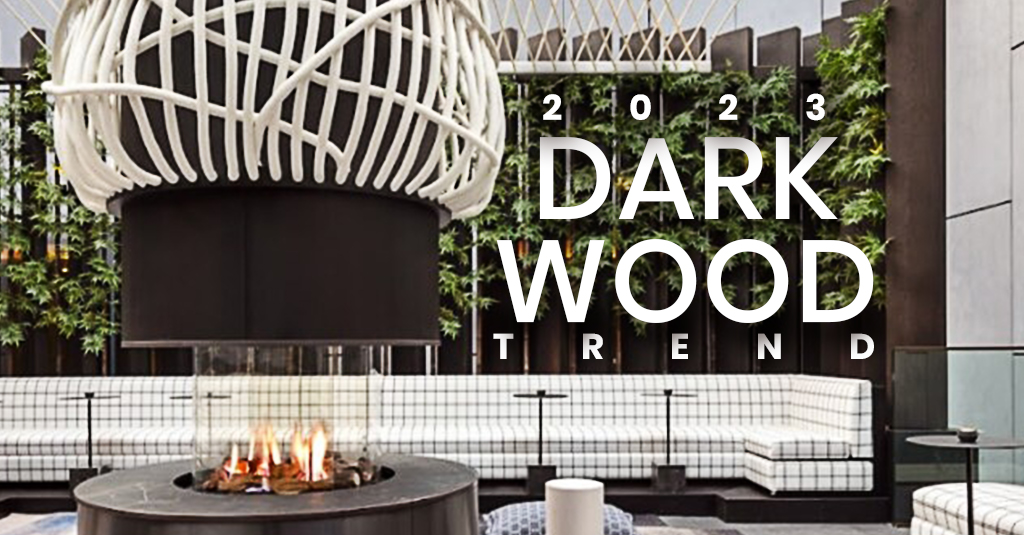 The world of interior design has been dominated in recent years by cool coastal grays, beachy beiges, and light, airy colors and styles. While Hamptons and Coastal styles have a timeless appeal, we're already seeing a resurgence of dark wood trending in 2023 along with natural materials, moody earth tones, and environmentally friendly styling. Here's what you need to know to incorporate this trend into your own space.
A Classic with a Modern Twist
Cherry, mahogany, and dark oak have a dramatic look and feel. With the right accessories, these darker woods can look great in any space, from sleek and sophisticated to boldly brutalist. Many colors look great when paired with richly colored wood species, including warm sunny yellow, midnight blue, terracotta, avocado, and all shades of brown. Ou
In a small space, dark and heavy wood can be overpowering, so consider incorporating a few "statement pieces" like a luxurious mahogany console or oak bookshelves. You can also keep the look balanced by simply replacing light wood frames, handles, knobs, and other smaller accessories with cherry or rosewood.
Statement walls remain popular this year, and they work well with this trend. You can quickly update your space using wood veneer wallcovering such as SanFoot to create a stunning focal point for the room.
Mixing and Matching
Matching furniture can date your space, which means that switching to darker wood doesn't have to be an all-or-nothing proposition. With a little planning, you can easily blend light and dark woods or mix heavy pieces with other materials to create a look and palette with greater depth and beauty.
Keep your space fresh and lively by incorporating a few different wood tones throughout. Try using a few bold pieces with dark wood, and then accessorize with lighter wood in similar tones. Keep the temperature warm, cool, or neutral as desired to complement your signature or statement pieces.
A Balanced Approach
Eclectic styles can be quite appealing, but you don't have to have an eclectic style to enjoy blending a variety of wood species and even materials. Doing so can even make your environment feel cozier and more welcoming.
The natural beauty of wood works particularly well with natural materials and textures, including tile or mosaic flooring, stone pottery, wool throws, and indoor plants. These materials work well in just about any color scheme, but a more natural palette will really make them shine. Add a few brighter or bolder pieces for visual interest.
At Jacaranda, we craft fine wood veneers using real wood. We use a variety of slicing techniques to expose the natural wood grain and then dye or stain the wood to further highlight its best features. You can choose from a variety of veneer products, including our classic favorite SanFoot, which is flexible enough to apply to curved surfaces or corners, and TransTec, a real wood veneer that is sliced thin enough to be translucent and that can be used for light fixtures, backlit walls, and more. Contact us today to learn more about how you can incorporate wood into the latest interior design trends.