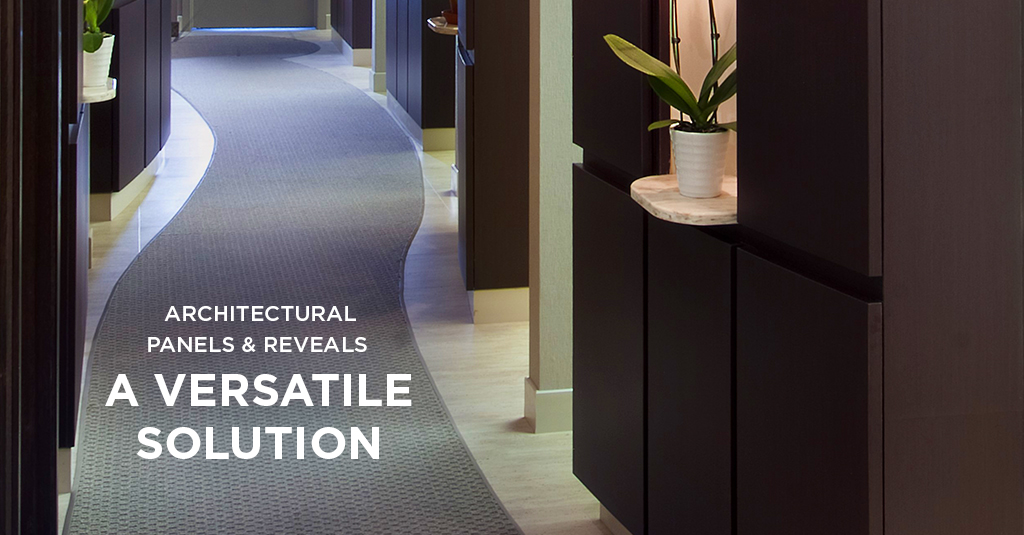 Architectural grade wood veneer wallcovering panels, reveals, and mouldings can add visual interest and shape to interior and exterior walls, sculpting and transforming spaces and transitioning seamlessly between materials and rooms. At Jacaranda, we use high-quality wood veneer to craft fine wood panels and reveals to create a versatile solution that you can use anywhere in your space.
Architectural Panels
Our architectural panels are available with a variety of substrates, including plywood, MDF, and other fire-rated and non-combustible substrates, so that you can get exactly the results you want. Our panels are square configurations in the same species, colors, and cuts as other SanFoot products. Our finishes are consistent. Each of our panels is made using the same high-quality materials and craftsmanship, which means that you can easily integrate them with adjacent veneer wallcoverings, millwork, cabinetry, and more for a turnkey finish.
Reveals
Reveals create recessed spaces in drywall installations, enhancing and beautifying spaces. They can range from ⅛-inch to 6-inches in width and can be installed either vertically or horizontally. Our reveals are made using Fry Reglet's system, which can be applied directly to drywall and allow for custom curving and brilliant design capabilities. You can use reveals to create numerous eye-popping effects from ambient lighting and floor illumination to wall washing. Add in the right wood looks and you can create stunning accent walls and lighting features that will leave your guests, clientele, and others in awe.
As with Jacaranda architectural grade wood veneer wallcovering, Fry Reglet is an environmentally friendly choice, using aluminum with a content of at least 65 percent post-consumer recycled material. The factory-welded intersections are designed for strength and durability while standard anodized and powder coatings are available in a variety of shades, including clear. Installation is simple, offering precise results and unparalleled sophistication.
Moulding
Mouldings delineate between different materials and spaces, such as walls and ceilings. SanFoot's special five-ply construction transforms real wood into a flexible material that can be installed on virtually anything, including not only walls but columns and corners, too. With a vast selection of species in limitless combinations of colors and cuts, you can create a beautifully customized space in any aesthetic you can imagine.
At Jacaranda, we take our commitment to the environment as seriously as we take our commitment to you. That means that all of our reveals and mouldings are environmentally friendly, using wood from responsibly managed forests from trees that are replaced after harvest. Each log is carefully sliced using a technique that ensures we get three times the wood from a single log that conventional veneers use. With more than 100 species, including rare and exotic recon species, you are sure to find exactly what you need. Combining our revolutionary wood products with Fry Reglet's products means that you will use just a fraction of the natural resources required by other products and greatly reduces the overall costs, too, without sacrificing style or aesthetics. Visit Jacaranda today to find out more about your design options or to schedule a consultation with a member of our team.