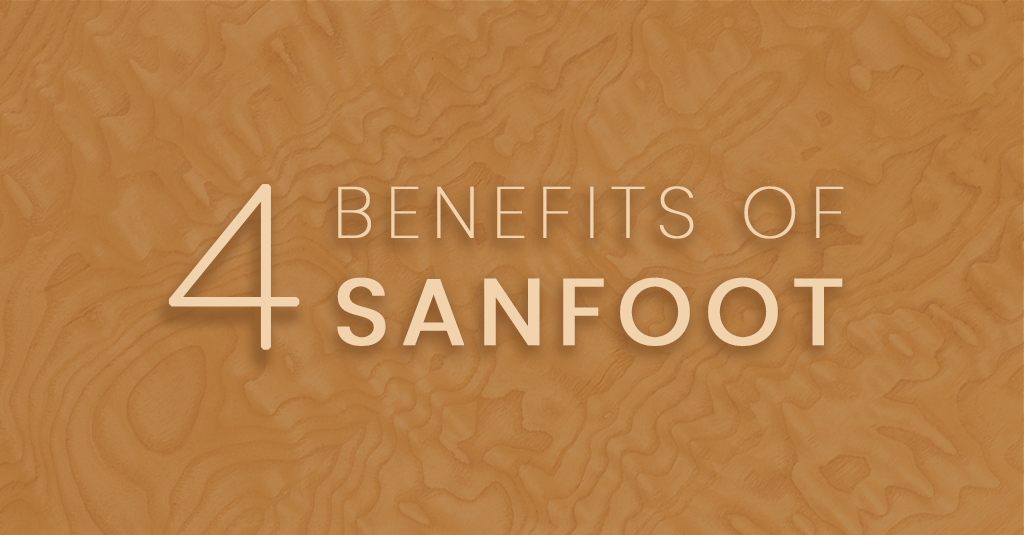 SanFoot is a versatile real wood veneer wallcovering that can be found in venues, educational facilities, and commercial establishments around the world. Its versatile array of options and durable finishes make it a popular choice in both residential and commercial facilities. If you are looking for a simple wood solution or an alternative to costly wood panels, SanFoot offers many benefits.
What Is Wood Veneer?
Wood veneer wallcoverings are wafer-thin sheets of real wood that are bonded to underlying materials. The resulting multi-ply sheets are strong, durable, and flexible and can be applied just like any other wallcoverings.
The Benefits of SanFoot Real Wood Veneers
1. Cost-effective real wood wallcovering
SanFoot is made using real natural wood that we carefully source while focusing on minimizing the environmental effects. We practice forest management by harvesting a limited number of individual trees from old-growth forests, leaving room for healthy young trees to grow stronger and taller. We also use plantation trees that are grown specifically to craft veneers and other wood products. These trees can be grown in plentiful supply to reconstruct and enhance for greater availability and consistency.
The results are affordable, cost-effective real wood veneers that cost about a third of the cost of conventional wood millwork.
2. Fast, uncomplicated installation
The flexible 5-ply construction makes SanFoot easy to apply to curves, columns, and corners without cracks, breaks, or damage. SanFoot can even be wrapped around 90-degree angles without difficulty. It is applied much like vinyl wallpaper, and a two-person crew can complete the job without difficulty in just one to two days, compared to the week or more that installing millwork often requires. Because SanFoot is pre-finished, it is ready to use as soon as it is applied.
3. Maximum yield and continuity
We use Japanese precision technology to craft AA quality veneer in large sequences for the end-matching capability and brand consistency, appearance, and flawless continuity. Our revolutionary cutting and manufacturing techniques produce more veneer and less waste from each log. We slice our veneers incredibly thin, which boosts the log's output by about 300 percent, allowing us to provide more wood.
4. Versatility
SanFoot is available in more than 100 species and a wide range of cuts. We also offer a variety of stains, finishes, and inlays in addition to custom finishes to meet your unique needs.
At Jacaranda, Inc., we are committed to providing you with precisely what you want and need for your facility. We have worked with a wide range of architects, designers, and builders to bring visions to life, and we can help you, too. Contact our offices today to learn more about what is wood veneer or to schedule an appointment with a member of our team.