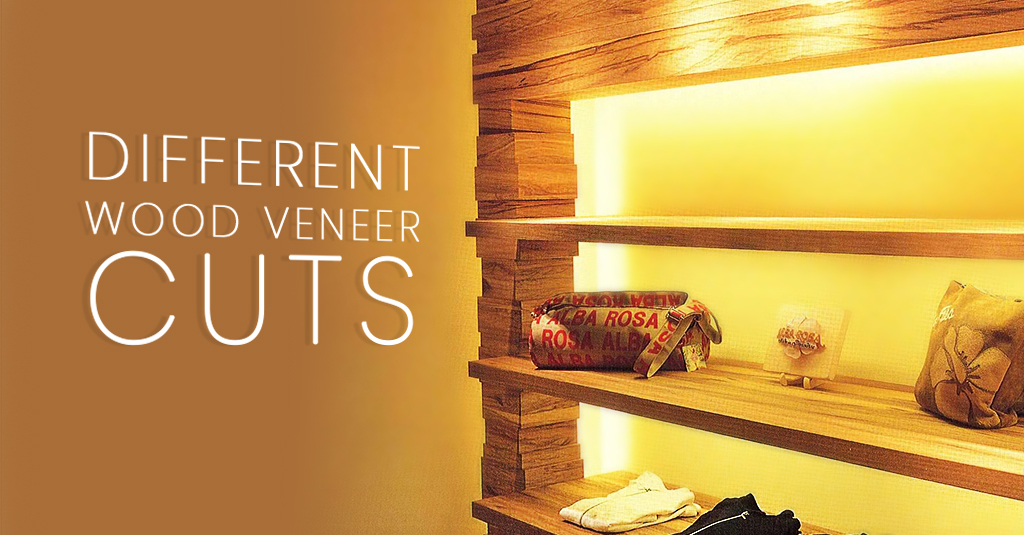 Wood veneer is a wood product that is made by slicing logs into thin sheets and bonding them securely to a backing. We can create an eye-catching array of patterns and designs with veneer using stains, dyes, lasers, and more, but one of the first things we do is cut the veneer.
Veneer Cuts
When learning what is wood veneer, your first step is learning about the various cuts of veneer. The way the log is sliced can significantly affect the final look of the product.
Plain Sliced
Plain-sliced, which is also called flat-cut or plain-sawn, veneer, creates thin veneers that are about the width of the log with a pronounced repeating cathedral or arched grain pattern. The pieces can be combined to bring out the veneer definition and according to your preferences.
Rotary Cut
Rotary cut veneer is another popular style. Rotary cutting is performed by "peeling" the log, much like paper is uncoiled from a roll. Rotary cut veneer has a non-repeating variegated pattern and can vary significantly. It produces large sections of wood veneer that can be used to create entire faces and panels up to 48-inches wide.
Quarter Cut
Quarter-cut or sliced veneer is made by dividing the log into four pieces and slicing each quarter on a radial. This creates a straight, tight grain with a flaked or rayed pattern depending on the species. Quarter cut is most commonly used with oak because of the flake effect. Oak can also be cut using a rift-cut, which cuts the quartered log at an angle to achieve a rift or comb rather than a flaking effect.
Veneer Matching
The next step in learning what is wood veneer is matching. After cutting the wood, it is bonded and matched. The way the sheets are matched dramatically affects the way the finished product looks depending on the cut, size of panels, the figure, and the species.
Book Matching
One of the more common styles, book matching flips the "leaves" to face one another much like the leaves in a book. This results in a "mirror-image" that accentuates the grains and other distinctive characteristics of the wood. Book matching can be used with most cut styles, including plain, quarter, and rift cuts.
Slip Matching
Slip matching is another common matching technique. In slip matching, veneer leaves are slipped one across the other and joined to create a repeating pattern. This results in a uniform, aesthetically pleasing repeating grain pattern. It is most often used with quarter and rift-cut veneer for a clean-cut look.
End Matching
Veneers that have burls or crotches are often end-matched for greater veneer definition. End matching uses a combination of techniques. The first two leaves are book matched and the next two are flipped to create stunning patterns that accentuate the grains and textures of the natural wood.
At Jacaranda, we can help you find the right veneer solution for your needs. We offer natural veneers in more than 100 wood species and a wide range of colors, dyes, stains, cuts, and matches. Contact us to learn more about your options or to schedule a site visit with a member of our design team.