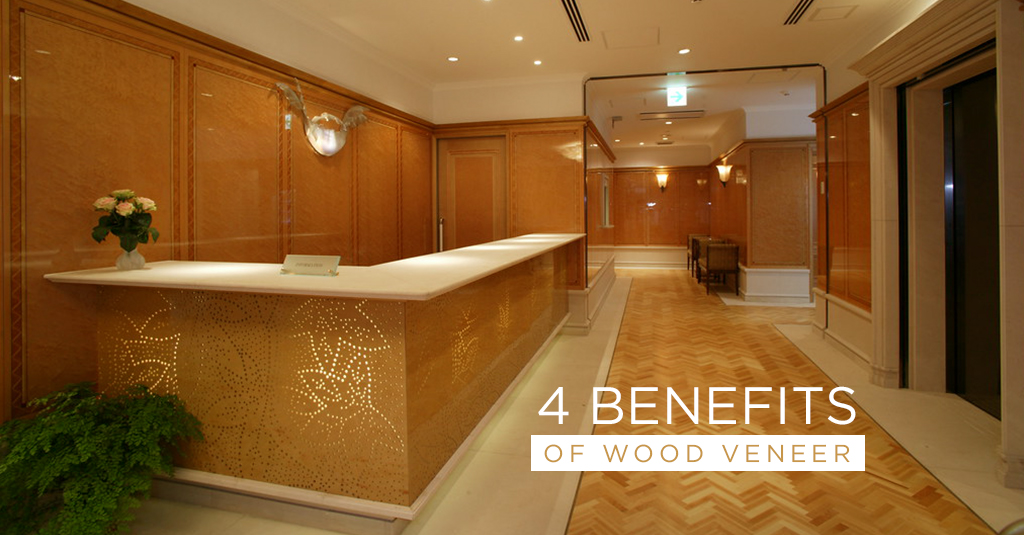 Builders and designers are increasingly turning to natural building materials, such as wood, and incorporating natural geometries, to stimulate a sense of health and wellbeing. Also known as biophilic design, this type of design can be restorative, stimulate creativity, and soothe the senses. The natural warmth and comfort associated with wood in particular can even help combat stress and anxiety and promote positive social interactions. Wood veneer fits beautifully into the concept of biophilic design with a versatile and hard-wearing finish that is incomparable. There are many reasons to use wood veneer wallcoverings in your next project, but here are four of our favorite reasons.
1. Wood veneer is environmentally friendly.
Wood is a naturally renewable and sustainable building material. Its carbon footprint is significantly lower than that of steel or concrete. Using wood in buildings could remove as much as 21 tons of CO2 from the atmosphere every year. Wood veneer can be an especially earth-friendly choice. At Jacaranda, we have a patented veneer-slicing method through which we can get three times as much veneer from each log, further minimizing waste and environmental impacts, and all our architectural grade wood veneer wallcovering is Class A fire rated, making it a safer choice, too.
2. Wood veneer is versatile.
With more than 100 species and a rainbow of colors and finishes, veneer offers virtually endless customization and personalization options. If you want a particular stain, pattern, or design, veneers can be a great choice. Wood veneer wallcovering is also extremely flexible, and it can be wrapped around columns, curved walls, and radius corners without cracking.
3. Wood veneer is durable.
Wood veneer wallcoverings are made from real wood, so they are very durable. Jacaranda uses hard-wearing finishes to protect against impacts, scratches, and everyday wear-and-tear so that your veneer wallcovering will continue to look beautiful year after year. Wood veneer is unlikely to warp, split, or crack because it is bonded to a strong, secure substrate. It can even outlast other wood products by many years.
4. Wood veneer is easy to install.
While the finished product is spectacular, installing SanFoot is quite simple to install, not much different than installing vinyl wallcovering. Contractors will need no specialized tools or processes and can apply the real wood veneers directly to primed drywall or other surfaces using appropriate adhesives. Each sheet of veneer is prefinished, so installing Sanfoot is fast and easy by Professional Painting Contractors.
Wood veneer can be applied and matched in a wide variety of ways, and it can be installed on not just walls but also ceilings. At Jacaranda, we offer architectural grade wood veneer wallcovering, cabinetry, and other wood products for a complete turnkey solution. Contact us today to learn more or to schedule a design consultation with a member of our team.