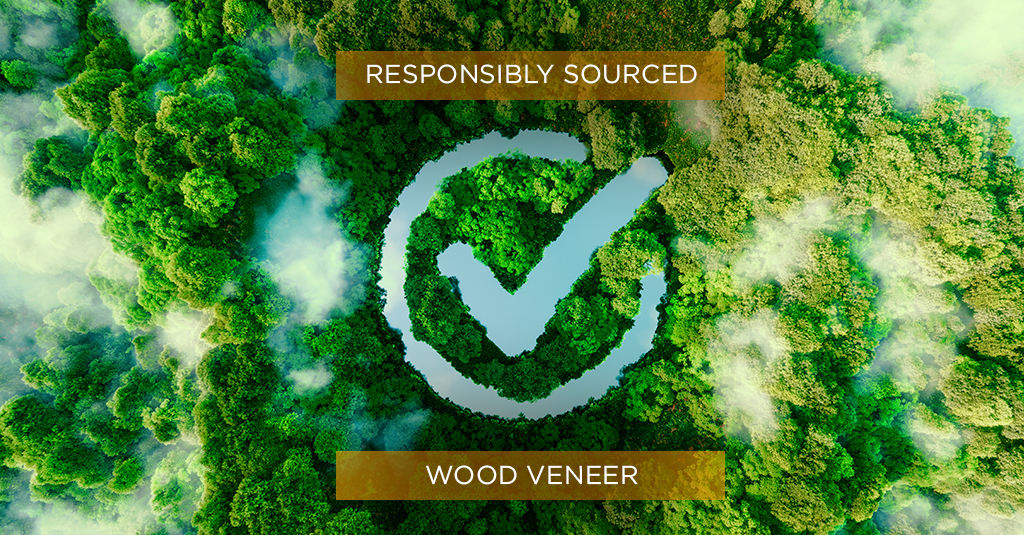 Throughout human history, we have used wood for various purposes. We began building with wood about 10,000 years ago, and today, we still use wood for its durability, availability, and natural beauty. Wood is also a sustainable resource, but its sustainability must be preserved and protected by using responsibly sourced wood. At Jacaranda, we understand how each of our choices can affect the world around us and future generations, which is why we are fully committed to creating environmentally safe wood solutions, such as our wood veneer wallcoverings.
We begin our commitment with responsible forest management. In a sustainable forest, the landscape is managed at all levels to protect the ecosystem, including not only the trees but also watersheds, wildlife, and other plants. This includes supporting strict trade regulations and tracing all along the supply chains to ensure fair trade, responsibly sourced lumber, and the protection of the people and communities depending on the wellbeing of the forests.
When selecting trees, we make decisions based on both the environmental effects and yield to ensure we are using resources as effectively and responsibly as possible. Whether selecting from old-growth forests or plantation-grown trees, we choose based on multiple factors to ensure that we are creating a vibrant, healthy environment in which new trees have plenty of space to grow and thrive.
While Jacaranda does select older trees from old-growth forests, making room for robust young trees to flourish, we also have plantations in which we plant and grow trees specifically for producing lumber and veneer products. These responsibly sourced, plantation-grown trees include species that are plentiful in supply that we can use in a variety of ways, including crafting recon or simulated products, by physically altering and reconstructing them to closely mimic rare and exotic species.
This technique can provide you with an enhanced product with consistent features and a beautiful appearance while still ensuring sustainability and minimizing environmental impacts. We can also grow exotic and rare species and species that may be threatened in their native lands, preserving a sustainable supply not just for our use, but also for future generations.
These are all critical factors for creating environmentally friendly wood veneers, but they are not all that we do. Our patented process enables us to get three times as much veneer from a single log, meaning that the wood we once needed three trees to acquire now needs just one. Furthermore, we support environmental groups with similar missions, including the Forest Stewardship Council and the U.S. Green Building Council.
Our wood veneer wallcovering and other natural wood products are Class "A" Fire Rated and Corner Burn tested, and they are made with no added formaldehyde and are VOC compliant. Each product bears the "Environment Friendly" symbol, making it possible for you to trace and discover how each log has been sourced so that you can be more confident in your choices. Contact our team today to learn more about our real wood products or to schedule an appointment with a member of our team.