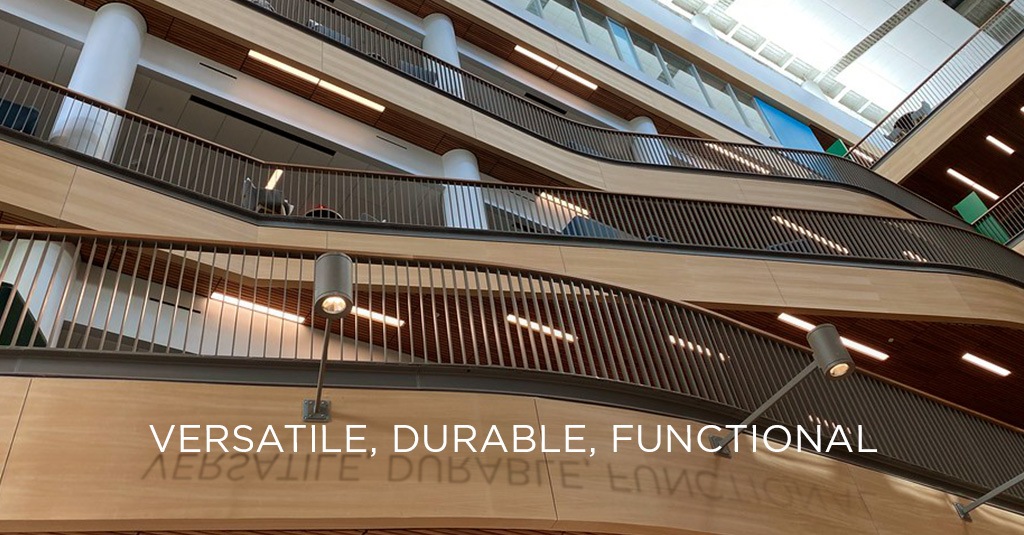 Educational facilities have unique design needs. Spaces must be functional, easy to maintain, and focused on the process of learning, tailored to the needs of both students and instructors. At Jacaranda, we have provided SanFoot real wood veneer wallcoverings and panels to schools, colleges, and universities throughout the United States. Our products are versatile, durable, functional, and beautiful, with a variety of features that make them ideal for educational facilities such as the University of Illinois.
The educational home of nearly 95,000 students, the University of Illinois has a diverse student body, world-renowned research facilities, and several locations across the state. It is one of the gems of the Midwest, and its walls are stunningly covered with SanFoot real wood veneer, which is designed to engage the senses and stimulate the learning process.
Purdue University has also chosen Jacaranda's products for their facilities. Listed as one of the top 10 most innovative universities in the country, Purdue University has a reputation for academic excellence, a welcoming and inclusive community, and unparalleled cultural opportunities. With a continued focus on sustainable products, our veneer fits right into its vision for the future.
The University of Virginia has also chosen Jacaranda's real wood veneer wallcovering. Founded in 1819 by Thomas Jefferson, the University of Virginia was envisioned as a public university intended to "advance human knowledge, educate leaders, and cultivate an informed citizenry." Today, the university has more than lived up to that initial vision with faculty, students, and alumni reaching new heights of success every year, and SanFoot has elevated its hallowed halls to new heights of design, too.
These schools are not alone in choosing Jacaranda's wood veneer and take their place alongside Harrisburg University, Michigan Tech, and the School of Forestry. Jacaranda's wood products are available not only as wood veneer wallcoverings but also ceilings, columns, doors, millwork, cabinetry, and reception desks. Our products are both beautiful and versatile and are available in a wide selection of species, stains, and finishes. Some are so thin that light can pass through, making them ideal for use in lighting and accent features.
Our veneer is made using real wood that is sliced wafer-thin and bonded to secure backing materials. The resulting veneer is the ideal blend of flexibility and durability, making it possible to apply to both flat and contoured walls. You can even apply our veneer to radius corners. Our wood products are a turnkey solution designed to integrate with any design needs.
Hard-wearing finishes add shine and protection, and additional protective finishes are available upon request for those high-impact areas, such as elevators, hallways, and stairwells. Each veneer is available in a variety of stains and species options, and our experts can customize stains to match your existing interior or design scheme. We can even create simulated exotics or burls to bring your vision to life. Contact our offices today to learn more or to schedule an appointment with a member of our team.