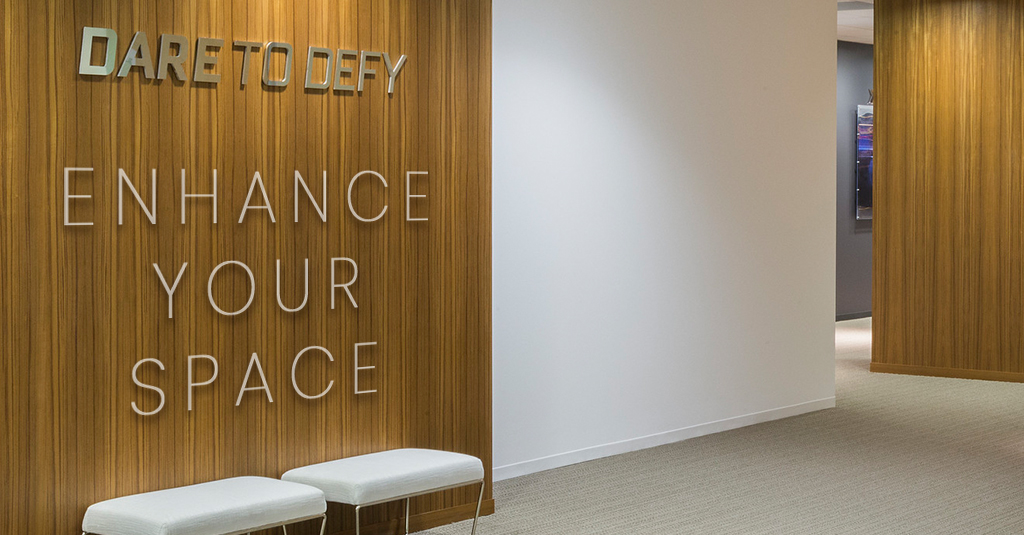 When it comes to building materials, few have stood the test of time as wood has. Wood has a solid yet warm feel that enhances and beautifies any environment. Often used to frame and build structures, wood is increasingly becoming an essential design element as well, not just in furnishings but in wallcoverings and ceiling patterns, too. You can enhance and transform your commercial space with wood veneer wallcoverings.
What is Wood Veneer?
Understanding the nature of wood veneer can help you make better decisions about how and where to use it. Wood veneer is made using real wood that is sliced extremely thin and bonded to special backings. It can be installed like any other wallcovering and attached to flat or curved surfaces and even radius corners. At Jacaranda, we make our veneer using real wood, and it is available in more than 100 species, colors, and cuts for a vast range of eye-catching patterns and brilliant shades.
Using Wood to Remodel a Commercial Space
Wood is a natural material, renewable and eco-friendly. As a biophilic design element, it is calming and earthy, connecting you to nature with a warmth and depth that cannot be created with any synthetic material. When you apply wood veneer wallcoverings, they immediately add a unique character with texture, grain patterns, and shine that draws the eye and comforts the spirit.
You can do virtually anything with wood when it comes to design, including:
Using inlays to catch and reflect light and create visually stunning textures and patterns whether on a single statement wall or throughout a room
Adding richly colored wood for a stunning contrast on single wall in an otherwise bright airy room
Creating a sleek, modern space in conference rooms or meeting areas with blonde wood on walls and ceilings
Designing logos, decorative prints, eye-catching patterns, and other customized looks using laser-cut wood veneer
Highlighting curved and contoured surfaces using our micro thin veneer, which can be applied virtually anywhere you want it
Our real wood veneer is easy to apply and goes on just like any standard vinyl wallpaper.
Jacaranda: A Wood Product for Every Design Need
From reception desks and lights to walls and architectural panels, our wood veneer can do it all. SanFoot is one of our most popular products. A prefinished architectural real wood veneer wallcovering available in more than 100 species and custom stains and finishes, SanFoot can be used virtually anywhere and on any project. We also offer:
FineTec, which we create using consistently available wood species to reconstruct exotic looks, rare burls, and unique designs
SanPly-3 and SanPly-4, which is ideal for use in demanding horizontal and vertical applications
TransTec, a visually stunning veneer that is adhered to a translucent backing to bring your space to life with backlighting, diffusion, and other one-of-a-kind possibilities
Contact Jacaranda today to learn more about how we can help you remodel a commercial space or to schedule an appointment with a member of our design team.