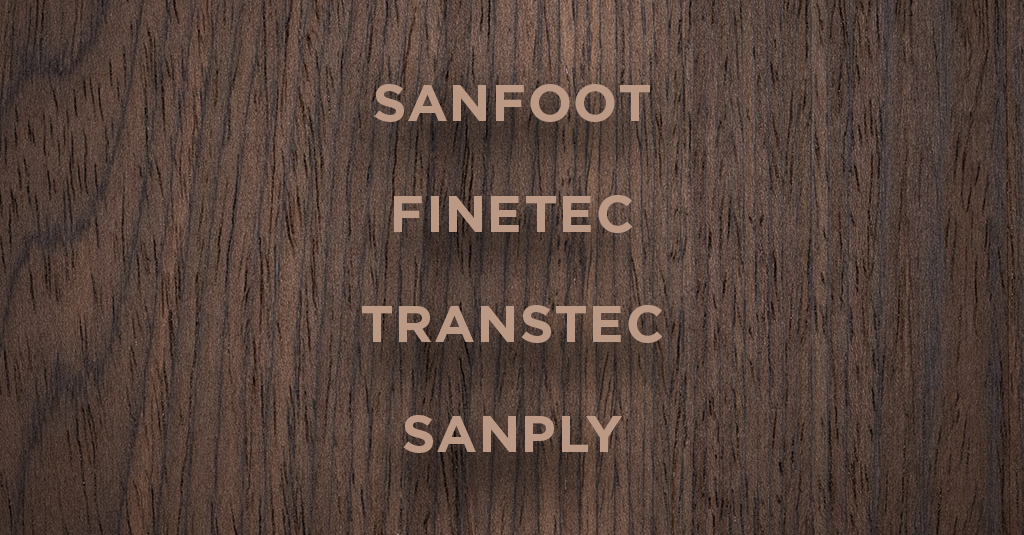 Wood wallcoverings have never really gone out of style, but today's wood walls offer more versatility, durability, and beauty than the walls of our ancestors. The earliest wood walls were often the same walls that dressed the outside of the home, creating a thin barrier between the inhabitants of the home and the elements outside. Over time, builders added boards to studs, often including decorative trims and eventually plastering over walls, too. Paneling and fancy woodwork or claddings bedecked outside walls, protecting the exterior of the home from rain, snow, and wind. Eventually, beadboard and other decorative paneling gave way to drywall.
Today, people are once again discovering the beauty and versatility of wood walls. With so many wood products from which to choose, it can be hard to narrow your options down to just one. Here is what you need to know about Jacaranda's family of natural wood veneer wallcoverings to make your decision about the best one for your needs.
SanFoot
Our flagship product is a real wood veneer wallcovering that can be used in any residential or commercial application. We craft SanFoot using a one-of-a-kind five-ply construction, making it flexible enough to apply to curved walls, columns, or 90-degree corners. It is an excellent choice for large wall or ceiling areas and is available in more than 100 species and a wide range of cuts and colors so that you can choose the exact look you need to integrate with your overall design project theme.
FineTec
When only the best will do, FineTec is a fine choice for commercial and residential applications. FineTec is manufactured from consistently available wood species and reconstructed to simulate rare burls, exotic species, and unique, original designs. With FineTec, you can enjoy the look of some of the world's finest woods, from Ash to Zebrawood, without interfering with availability or environmental considerations. Because we use only the highest-quality techniques and methods to craft our veneer, you can always be confident of the finish and consistency of appearance for uncompromised results.
TransTec
When it comes to design, not only the big picture but also the little details matter. TransTec is a revolutionary veneer sliced thin enough that light can pass through it. Whether you want luxurious wood light fixtures, glowing ceiling panels, or backlit panels and walls, TransTec can bring your space both to life and to light.
TransTec is available with a variety of backers for your choice of flexibility and applications and can be made in most SanFoot and SanPly veneers and cuts to meet your needs.
SanPly
SanPly is an architectural grade natural wood veneer designed to use in the most demanding horizontal or vertical application. These architectural grade faces are made using either three or four layers for incredible flexibility and versatility. An additional layer of foil is added to SanPly-4 to allow for maximum flexibility to tight radii and to eliminate the risk of cracking or splitting and bubbling or lifting.
All Jacaranda real wood veneer products come prefinished and ready to apply. Veneer wallcoverings are designed to install just like vinyl wallcovering and need no special processes or tools. Call us today to learn more about how you can use wood in your next design project or to schedule a visit with a site specialist.