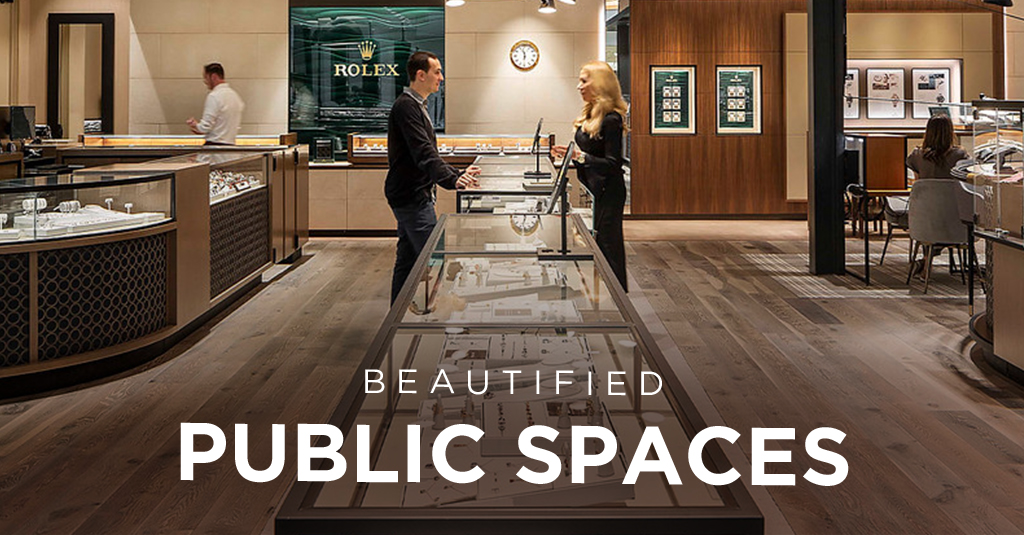 Wood has a timeless luxury and a universal appeal, making Jacaranda's Sanfoot luxury wall panels the ideal choice for nationwide and global luxury retail brands and establishments. At Jacaranda, we have designed SanFoot to be the ultimate wood wallcovering for your space. Unlike conventional wood panels, our SanFoot veneer is designed to be installed directly on to drywall or another substrate just like a vinyl wallcovering. It can even wrap around curved surfaces, columns, or corners without splitting, cracking, warping, or bubbling.
View this post on Instagram
The Benefits of Choosing SanFoot luxury wall panels
Our real wood veneer offers many benefits for your space, including:
A luxurious design: Real wood has an expensive, luxurious look and feel that elevates the design of any space
Quality: Our wood veneer is made from high-quality real wood that is sliced wafer thin and backed to secure substrates that can then be installed over drywall or other surfaces just like a vinyl wallcovering with no need for special tools, techniques, or services.
Versatility: Wood veneer can be installed on curved walls, corners, columns, and contoured surfaces with ease and comes available in many colors, designs, and even translucent panels, inlays, and custom printed sheets making it easy for you to create the exact look you want.
Green: Real wood is a natural and environmentally friendly product, and Jacaranda is a member of the Forest Stewardship Council and committed to sustainability practices that protect and preserve a plentiful supply of wood species for future generations.
Variety: We offer our veneer in more than 100 SanFoot veneer species and a wide variety of cuts and stains. We also offer custom stains and finishes to ensure you have exactly what you need when you need it as well as custom laser-cut inlay and digital printing services to further personalize your wood veneer.
SanFoot beautifully balances form and function for unparalleled performance and superior aesthetics. We have patented our cutting techniques to ensure the thinnest possible veneers and can get three times as much usable veneer from each log.
Understanding Your Options with SanFoot luxury wall panels
Once we have sliced the veneer, we continue the process by bonding it to a secure substrate and laminating it before dyeing or staining it to your specifications and finishing it with a double coat of hard-wearing clear polyurethane finish for a durable shine. SanFoot is Class A Fire-Rated and available in numerous ready-to-use stains and dyes as well as custom dyes and finishes for endless possibilities.
Not only does SanFoot flawlessly unite aesthetics and durability, but it is also incredibly versatile. Each SanFoot wall panel is carefully designed to transform your space and enhance its look and feel to create an elegant space that is as soothing as it is functional. SanFoot veneer stains and finishes range from warm, inviting tones such as natural oak and walnut to richer, more intense shades such as smoked oak and stained rosewood. We can use custom SanFoot veneer finishes and stains to reach your desired color and shine and added durability for high-traffic areas.
Contact Jacaranda, Inc. today to learn more about custom SanFoot veneer stains and SanFoot veneer finishes or to schedule a consultation with a member of our design team.