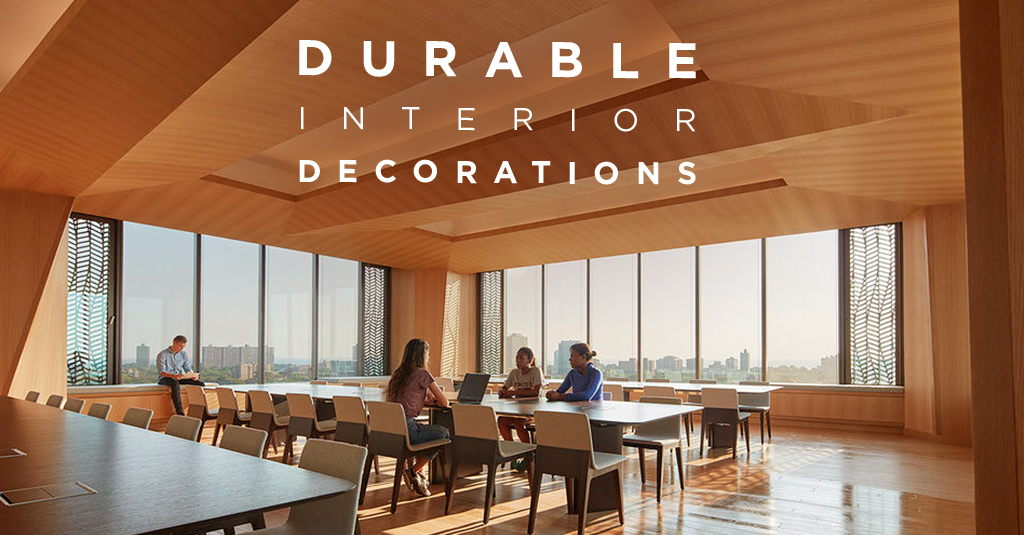 Contrary to popular belief, wood veneer for interior design is a durable material for decorating any area.
Interior design goes through various shifts and trends. What's hot right now might not be hot in a decade, and what was popular five years ago could look dated today. Some materials and design ideas are classics, however, and that includes wood.
Almost since the dawn of humanity, we have used wood to build, furnish, and decorate our homes. Wood veneer continues to be one of the most useful and beautiful materials used in home decor today. Understanding what is wood veneer and how to use it in your own space can help you make better choices with your own wood wall design.
What Is Wood Veneer?
Wood veneer is a real wood product that is made by slicing logs into thin layers and bonding the thin sheets to a substrate. Wood veneer can be made using just about any wood, including oak, maple, birch, and acacia. Common species can be reconstructed to replicate rare and exotic species and beautiful burls with consistent patterns. Regardless of your goals, we can create a wood veneer to make a wood wallcovering to your precise specifications.
Veneer is typically crafted in sheets, and while many people think of furniture when they think of veneer, it can be used for so much more, including wood wallcovering, ceiling panels, architectural elements, and even light fixtures. Once the veneer is bonded to its substrate, it can be installed. At Jacaranda, we number our wood wallcovering sheets to make it easier for you to ensure a consistent pattern. You can book match, slip match, or randomly match your veneer.
Benefits of Wood Veneer for Interior Design
Using wood veneer for interior design scheme offers several benefits over other wallcoverings. With wood veneer, you can enjoy the beauty of real wood without the cost of solid wood. Veneer is also highly versatile, and we can offer not just wood wallpaper but reception desks, cabinetry, doors, and more for a turnkey solution and a truly one-of-a-kind interior space.
Our quality is unparalleled. We use a patented technique to get three times as much wood from a single log and carefully process it. We use no added formaldehyde, and each sheet is Class A Fire-Rated for your safety. Our wood veneer is natural and environmentally friendly, designed to reduce waste and ensure sustainability.
You can choose from more than 100 popular wood species as well as rare and exotic reconstructed wood species for your wood wall decor. Because each sheet of wood wallcovering is as individual as the wood from which it is derived, you can expect eye-popping results and unique patterns. Your choices and options are nearly endless, and we can further customize your veneer using stains, dyes, printing, and finishes to add depth, designs, and shine, giving a brilliant new look to your space.
Veneer is also strong and versatile. Solid wood is prone to damage when exposed to temperature extremes and moisture, but veneer is thin and bonded to a substrate, which gives it more flexibility and durability, protecting it from damage. At Jacaranda, our wood wall design team can use a variety of backers to allow for varying degrees of flexibility in our wood wall decor, creating a wood wallpaper that is so flexible that it can be adhered to curved and contoured surfaces and even wrapped around 90-degree corners.
Our wood wall decor is not just beautiful; it also has a warm, lush appeal that naturally accentuates any space. The right wood walls can create a homey mood or add a sleek, sophisticated appeal. Our design team can help you choose the right wood wallcoverings for your space. Call us today to learn more about what is wood veneer or schedule an on-site consultation with our wood wall design team.