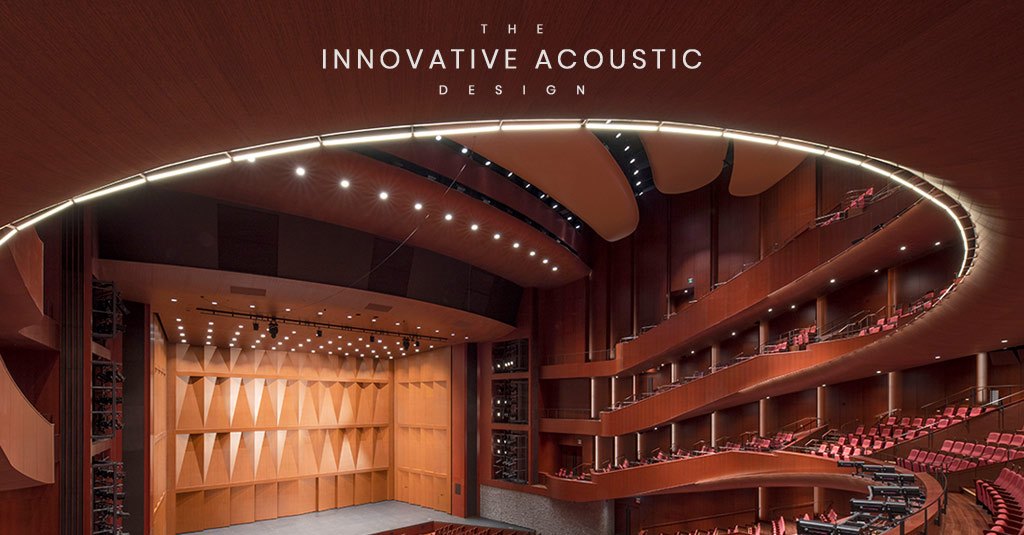 Wood has long been the material of choice when it comes to theatres, auditoriums, conference centers and cathedrals, thanks to its versatility. Wood walls and ceilings have a natural grace and beauty that can have a modern or classical feel and simple or intricate designs. For aesthetic reasons alone, designers and architects keep returning to wood year after year and with building after building, but there is another reason that wood is perennially popular: acoustics.
"Acoustics" refers to how well sound is transmitted throughout a room or building. A room with good acoustics will absorb and reflect sound waves using a variety of techniques for the best possible reverberation. The acoustics can make or break the experience of the patrons or visitors, so getting it right can be just as important and maybe even more important than the aesthetics of the environment. Wood veneer walls can have good acoustics.
The Acoustics of Wood Veneer
Wood is a naturally appealing building material that contributes to a feeling of well-being and is believed to promote productivity. Some even believe it can help patient recovery in hospitals. While the jury might still be out in that area, there's one arena in which wood's performance continues to be unchallenged: its acoustics.
Wood absorbs sound naturally thanks to its porous nature. Natural wood wallcoverings are perfect for insulating and separating rooms and spaces and are an excellent option for both libraries that need to dampen sound and concert halls that need to amplify it. Wood has superior reverberation control, making it particularly desirable for both walls and ceilings alike.
Some of Jacaranda's wood veneer projects for performing arts centers, theaters and convention centers around the country and the world include:
• Alice Tully Hall, USA
• Cultural Arts Theatre, Japan
• Tianjin Performing Arts, China
• Chandler Performing Arts Center, USA
To craft natural wood veneer wallcoverings, logs are sliced thinly and bonded to a strong underlayer. Jacaranda's wide selection of veneer wallcoverings includes SanFoot, which can be used in all commercial and residential applications, as well as RealTec, FineTec and TransTec. Each is available in an extensive selection of species, including:
• Moabi
• Cherry
• Sapele
• Teak
• Red Birch
Natural wood veneer wallcoverings are rated according to the Sound Transmission Class and Impact Insulation Class to determine their acoustics and ensure optimal performance. Not only are they popular because wood veneer walls can have good acoustics, but they are also highly desirable for their environmental benefits. Wood has a small carbon footprint and, indeed, is a type of carbon sequestration, keeping atmospheric carbon suspended and mitigating the potential damage of greenhouse gases.
Wood is easy to source, has low VOC emissions and behaves predictably during catastrophic events. It has strong thermal performance and low VOC emissions, and it can be sliced thin enough to allow light to pass through, further improving acoustics by reducing the need for light fixtures, which can leak unwanted sound waves. With the right impact-resistant polyurethane urethane coatings, wood can also be easy to clean with an attractive shine, perfect for any environment.
About Jacaranda, Inc.
Jacaranda has been offering green building materials since the 1970s, when founder Dan Whittelsey, Sr. began exporting veneer-quality logs out of Central America. Today, Jacaranda is an industry leader, with a wide range of natural wood veneer products in more than 100 species, including exotic and recon species. Contact our team today to learn more about the possibilities for wood veneer projects for performing arts.