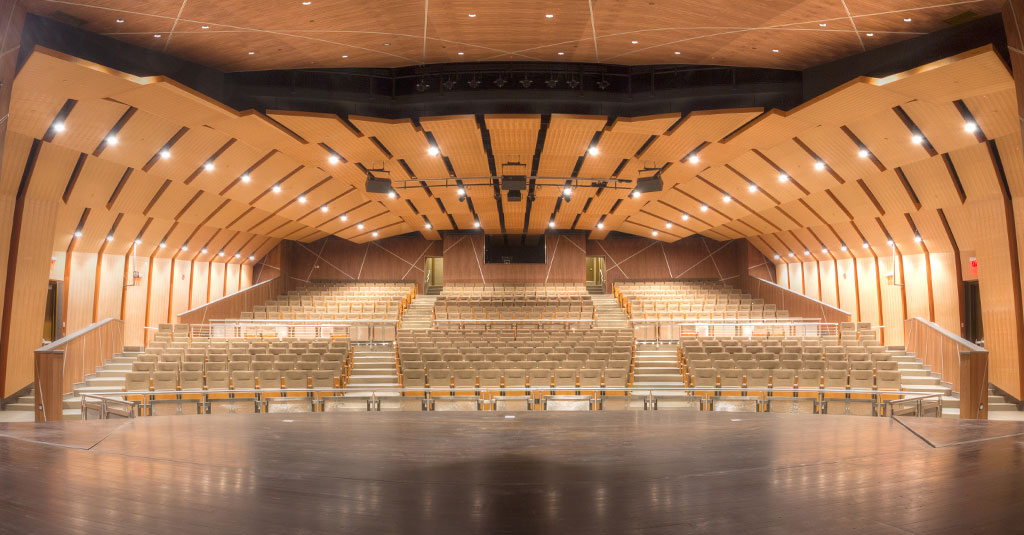 Monroe Community College was proud to unveil its theatre renovation in 2017. The theatre, which was located on the Brighton Campus, was part of an extensive renovation project funded through the State University of New York and Monroe County and designed by architectural firm Popli Design Group. It was an extensive project that transformed a simple college theatre into a state-of-the-art venue with premier acoustics, unparalleled architectural design elements and advanced accessibility features that make it a jewel in the community.
The college's earliest days were spent in a former high school, a building that was originally declared a fire hazard. Established in 1961, Monroe Community College was a part of the State University of New York, and while small, it offered unprecedented access to education to people who had previously had few opportunities. On opening day, more than 700 eager young students swarmed the campus, which earned accreditation just three years later. Over the years, enrollment has grown exponentially, and the educational offerings have grown just as much, with MCC providing courses in a wide range of career paths, including teaching, criminal justice, and human services.
The Monroe Community College Theatre renovation project is a testament to the school's commitment to the community and its students. The architectural design features advanced acoustics thanks to the rich Cherry Wood veneered panels that direct the sound from the stage and into the expansive theatre seating. The arced Cherry Natural Wood veneer ceiling clouds continue moving the sound from the front stage to the back of the theatre with larger surfaces fanning out and amplifying the sound while acting as a visual frame along with the aluminum reveals. Between the cherry clouds and the roof is a special isolation ceiling, which acts as a buffer and prevents outside noises from intruding within the theatre.
Additional features to enhance user experience include low airflow ducts, dampers and duct liners to minimize HVAC noise, a 64-channel sound system, LED theatrical lighting fixtures, new video, and sound projection systems, hearing assist systems, ramps and wheelchair seating and improved exist visibility.
Behind the scenes, the new features are every bit as exciting with a full scene shop, double dressing rooms, and a spacious theatre stage as well as a proscenium thrust stage. The MCC theater has been used extensively as a lecture hall and for other college purposes, but this upgrade has breathed new life into it, giving it a chance to be used as a performing arts center, community center, and a concert hall. It's the ideal setting for any theatrical production, play, concert or recital.
Over the years, MCC has grown to meet the area's needs for education, activism, service, diversity, inclusion and a wide range of programs. Although proud of its history, the college will continue to move forward into a rich future serving the ever-changing needs of a vibrant community, rich in culture and diversity.
About Jacaranda, Inc.
Jacaranda is proud of its role in the Monroe Community College Theatre renovation project and has worked with numerous other performing arts centers and educational facilities across the U.S. and around the world in bringing their dreams to life. Our SanFoot real wood veneer wall coverings and architectural panels grace the walls of the University of Illinois, Purdue University, Michigan Tech, Harrisburg University and the School of Forestry in New York. Our Beech, Cherry, Maple and Brazilian Koa natural wood veneers are beautiful additions to counters, ceilings, doors, millwork, and architectural panels. Each of our products is VOC-compliant and Responsible Forestry-certified as well as Class-A fire-rated. Contact our team today to learn more or to schedule a consultation with our design team.