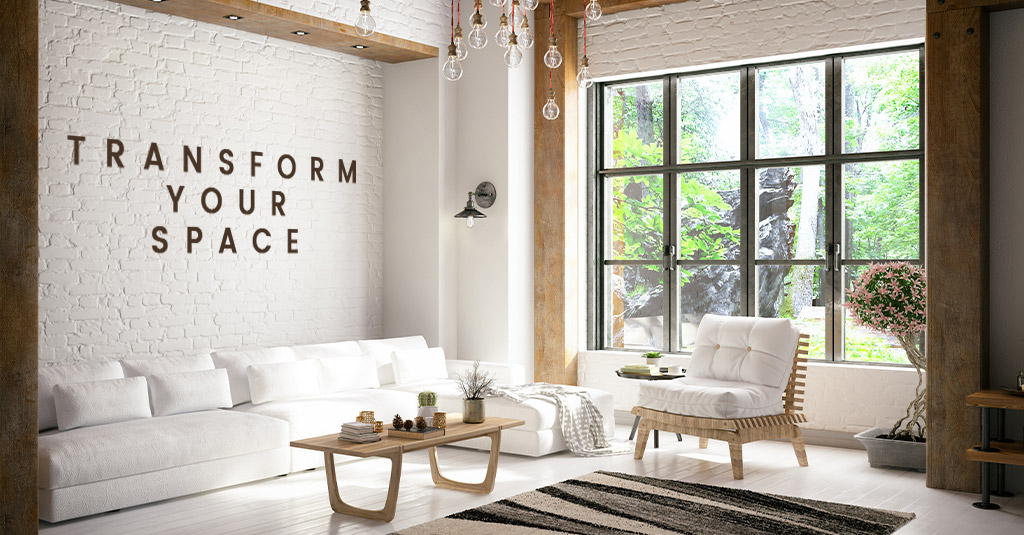 Wall trends come and go, but for years, walls have been fairly simple. For many, painted drywall has reigned supreme. However, modern homeowners and business owners are looking for something a little more personalized. In fact, textured walls have soared in popularity as one of the best ways to highlight the beauty and personality of a room with depth and drama.
Textured Accent Walls
An accent wall can be used anywhere in your home to add visual interest and texture, but you do need to consider a few things before installing one. First, functionality matters. If your wall will be in the kitchen or bath, you'll need it to be resistant to humidity and easy to clean. It will also need to be similarly easy to clean if it's located in a high-traffic area, such as a hallway or a mudroom. Non-porous wallpaper is a good choice as is wood veneer with a protective polyurethane coating to protect against humidity, bumps and other minor mishaps.
Another consideration is style. Unlike paint, which can be changed almost as quickly as your mind, textured wall applications require a bit more thought and consideration. You'll want a timeless look that will age beautifully along with your home, so that means moving beyond fad applications and towards materials that will last. Wood in interior design is a timeless choice thanks to its warmth, natural feel and incredible versatility.
Focusing on Wood in Interior Design
When planning to add textured accent walls, consider what you want your focal point to be. In a living area or family room, this will typically be the wall on which the fireplace or TV is located. In the kitchen, it will be the wall with the stove while in the bedroom, it will be the wall behind the headboard. You can repeat the theme throughout your home for a feeling of cohesiveness. That doesn't mean you need to have a textured accent wall in every room. However, you can play with different variations of the theme or highlight specific features to continue the motif. For example, if you use wood wallcovering for an accent wall in your dining room, you can tie that in with the white oak cabinets in the kitchen and white oak flooring in the foyer. Use complementary paint colors and upholstery for a look that is especially appealing.
Finally, mix and match textures for greater dimension and visual interest. A stone wall goes well with exposed timber ceilings and supple calfskin furnishings while the beauty of sleek wood veneer wallcovering is brought out with crisp linens or sheer drapery. If you're not sure where to start, play with vision boards to put together a variety of looks, colors and textiles for each room, and before you know it, you'll have transformed your space with beautiful, inviting texture.
About Jacaranda, Inc.
Jacaranda's real wood veneer wallcovering can be found in businesses and homes throughout the world. Its flexibility and versatility make it ideal for use in all residential and commercial applications, and it can be matched to wall finishes, adjacent millwork and doors for a turnkey wood solution. Its veneers are manufactured in large sequence runs with end-matching capabilities so that it can be used in large wall and ceiling areas. We offer more than 100 species, including rare and exotic recon woods and beautiful burls and designs. Thanks to its 5-ply construction, it can be applied to curves, columns and radius corners and can even be wrapped around 90-degree angles and corners without damaging the wood. With a variety of real wood products for virtually every need, Jacaranda is proud to offer environmentally friendly wood wallcovering solutions that are Class A Fire-rated, easy to apply and ready to use. Call us today to learn more.