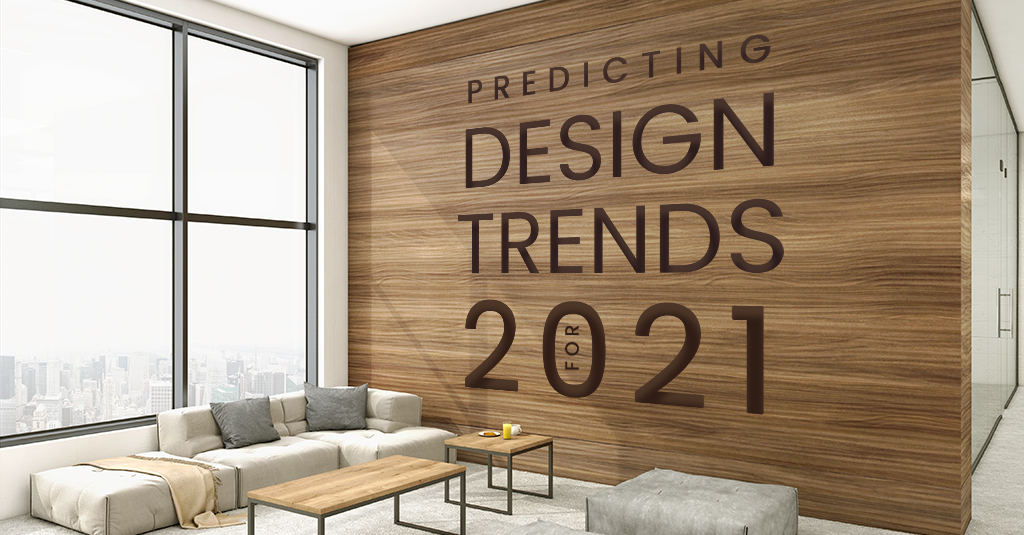 Many people are looking forward to the new year with the promise of new beginnings and hope. What will 2021 bring? Design trends often evolve gradually, but the major changes of the last year have transformed the way we work, play, and live. We are increasingly seeking to turn our private spaces into tranquil retreats that bring us respite from the chaos of the world outside. If you are ready to transform your own space, here are some of the top trends for the upcoming year.
Earthy Tones and Zen Designs
A few well-planned changes can create the peaceful environment that you crave. The key is to look for pieces that are light and natural. Soft textures, plenty of natural light, and earthy colors are all great choices here. Look for sand, pinky-beige, dove, stone, and ocean blue. Rather than creating a color scheme, consider going monochromatic. Chromatic harmony is visually relaxing and preserves continuity. Use texture or varying tones to add interest.
Natural materials and fabrics work well in a relaxed environment. Use gauzy linens, vining plants, and sleek, light woods in these design schemes. Think light oaks, Scandinavian blondes, and other pale wood veneer wallcoverings that highlight rather than overwhelm your color scheme. Rock gardens and water features also play well in these spaces and add visual interest without detracting from the overall look.
Statement Walls
If your previous year has felt restricted or stifling, then you might be ready to break out with a splash of bold color. While neutral earthy palettes are dominating the style scene, we are seeing more people drenching entire rooms in bold, vibrant shades in a move that hearkens back to the Victorian period.
While you might not be quite on that bandwagon yet, a statement wall can bring color and life to a room. You can also use saturated colors on your walls offset with deep, rich wood statement walls, such as mahogany or cherry. Wood is a particularly good choice for statement walls. It goes a step beyond the standard painted walls with its lush textures and natural feel and offers warmth and character to any environment.
Sustainability
Recognizing the potential impact of our choices on the environment is never a bad idea but is ever more important as the new year dawns. Choosing wood wallcoverings makes it easy to partake in this design trend. With wood veneer, we maximize the amount of wood we get from each log, which reduces the number of trees that must be cut to produce our products. We also use eco-friendly harvesting and manufacturing techniques to ensure safe, sustainable supplies for future generations and support organizations that protect the environment.
To create a sustainable design theme in your home, wood walls or a wood statement wall are great places to start. Add light, airy curtains that allow plenty of natural light to show through, and cover floors with jute or wool rugs. Use wood, cane, or rattan furnishings with soft cotton or wool pillows and throws. Keep the colors soft and natural for a cohesive look and add visual interest with layering and textures. Look for materials and products that are certified sustainable and environmentally friendly.
Multifunctional Spaces
Working from home has created challenges for many people over the past year, which might be why multifunctional spaces are becoming top design trends in the upcoming year. A far cry from the kitchen desks of the 1990s, the multifunctional spaces of today are designed to add beauty and value to your home. Perhaps more importantly, they pull double-duty with style.
You can transform your own dining room, playroom, or guest bedroom into a dual-purpose workspace using a pull-down desk, armoire with a pull-out desk, or wall-mounted cabinets and shelving units that double as desks. Before making any major changes, think about how you will use the space most, and then design your dream room around that use. Use a natural wood veneer wall to create a sense of visual separation between your designated work zone and the rest of the room or to create a statement wall that draws the eye away from your work area. Use sleek, light woods for a bright, natural feel or go darker if you want to really bring the drama.
Visit Jacaranda Inc. today to learn more about using natural wood veneer in your home or corporate facilities or schedule an appointment with a member of our design team.