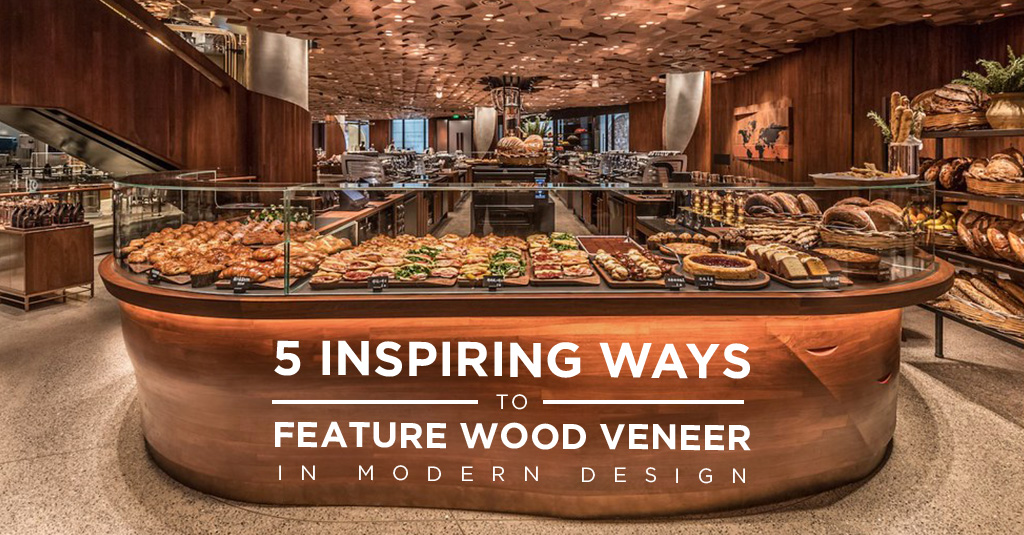 Wood veneer is one of the hottest design trends of not just the year but the decade. Designers have been highlighting it everywhere and using this versatile natural material in everything from hotel lobbies and restaurants to offices and residences. The warm feel and environmentally friendly appeal of wood make it ideal for organic design elements while its naturally beautiful look is perfect for innovative treatments and modern design elements.
Whether you want something bright and brilliant or classically sophisticated, wood veneer is the ideal choice. Check out these five inspiring ways to incorporate our veneer species into your next project.
1. Make a memorable entrance.
Entryways are designed to envelop guests and visitors with welcoming warmth, and nothing embodies that mood quite like veneer wood wallcoverings. We offer more than 100 different species, including rare and exotic species, recons, and beautiful burls that will add that "wow" factor you crave. Because entryways also tend to be high traffic, the right finish is essential. Our SanFoot sheets come prefinished with a double coat of polyurethane for added durability. We also offer custom SanFoot veneer finishes for added durability and shine according to your needs and preferences.
2. Break it up.
While open-plan spaces have dominated both corporate spaces and homes for years, we are starting to see that change. As more people work and learn from home, the trend is moving towards zones and cozy, functional spaces, and veneer wallcoverings can help you bring this modern design trend into your own space. You can use veneer wallcoverings to create zones and seamless transitions between spaces, delineate workspaces, or visually break up long walls.
3. Make a statement.
Statement walls, also known as a feature or accent walls, are a great way to add color, texture, and visual interest to a space. While you have many options for creating an accent wall, one of the simplest and most stunning is wood veneer. Veneer wallcoverings can be applied just like conventional vinyl wallpaper, and within minutes, you can have a beautiful new feature wall with depth, lush patterns, and brilliant colors thanks to a variety of SanFoot veneer stains to highlight your space.
4. Lighten the mood.
Wood has a reputation for being dark and heavy, but with TransTec, you will see wood in a whole new light. Our TransTec is real wood that is sliced so thin that light can pass through it, and we bond it to transparent or translucent backers to preserve its distinctive characteristics. You can use TransTec on walls or ceilings for one-of-a-kind backlighting features or transform lamps and other features for soft, glowing ambient lighting.
5. Take a step back.
Wood hearkens back to a simpler time. Depending on the type of wood and style of wall, it can have a sleek sophistication or warm old-school look. Whether you want to restore a period property to its former glory or simply want a retro vibe for your space, SanFoot wood veneer is the perfect solution.
At Jacaranda, we offer modern design solutions for your space with endless customization options through SanFoot veneer stains and brilliant SanFoot veneer finishes. Contact us today to learn more or to schedule an appointment with a member of our design team.