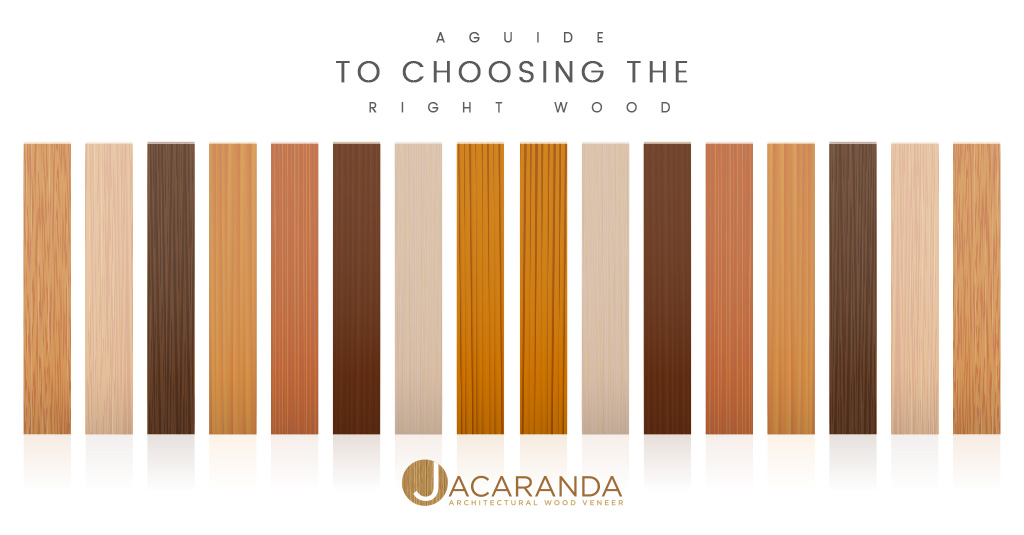 When it comes to interior design with natural wood veneer, the look and feel of your space are essential to its both function and your comfort. Choosing the right wood can make all the difference to creating a space that is warm, welcoming and full of personality. To create or enhance your aesthetic or ambiance, you need the right color, texture, and pattern. Jacaranda can help you bring your visions to life with wood veneer products for every environment.
Interior Design with Natural Wood Veneer
Using natural wood veneer in interior design saves wood and allows for more decorative techniques and versatile styling options. By altering the cutting or matching method, Jacaranda can achieve a wide range of designs and looks. To make veneer, wood is cut into extremely thin sheets that are bonded to another backing to make wall coverings, furniture or other design elements. We can alter the backing, we can change the way the veneer looks or even transform the way you can use it.
Find the Right Wood Product Your Project
You will need to consider several factors when deciding on the right veneer for your project, including species, type of veneer and finish.
Finding the right species is about more than just the right color or grain pattern. Woods are categorized as soft- or hardwood. Softwoods are woods that come from cone-producing trees such as cedar, fir, pine, spruce and redwood. Hardwoods are woods from leaf-producing trees, such as birch, oak, mahogany, maple, poplar and walnut. Hardwood tends to accept stain more easily.
Jacaranda offers a variety of veneers that can work for virtually any project, including:
SanFoot
SanFoot real wood veneer wallcovering is designed to be used in all residential and corporate applications. It features a unique 5-ply construction for maximum flexibility, and the large sequence runs make it easy to end-match even on large projects. SanFoot is available in more than 100 different real wood species and a variety of cuts and colors for virtually endless design patterns and seamless integration with your existing interior. It can be installed just like vinyl wallpaper and requires no special tools or procedures. SanFoot comes prefinished with two coats of polyurethane and a 30 percent sheen but is also available with custom Elite finishes and stains. All Jacaranda veneers are Class A Fire-rated. You can see SanFoot in corporate facilities around the world, in places such as Microsoft, Disney and Cox Media.
FineTec
Sometimes you need to take an interior to the next level with a little bit more luxury and class. You need FineTec. FineTec is a reconstructed real wood veneer that is designed to simulate the look of rare burls, exotic species and original designs. Because Jacaranda uses consistently available wood species to recreate the finest woods, your budget will not be strained, and neither will the environment. With FineTec, we can improve availability and access to hard-to-find species while ensuring a beautiful consistency of finish and incomparable product. FineTec is available in a wide range of species, including ash, ebony, wenge and zebrawood.
TransTec
Wood walls can sometimes feel heavy or dark, but TransTec comes with a light of its own. That's because it is sliced so thin that light passes right through it. TransTec is a translucent wood veneer that can be used in panels, light fixtures, reception desks, walls, ceilings and anywhere your imagination can take you. TransTec comes with a variety of backers to allow for your desired amount of flexibility and translucence and can be used in most wood species and cuts to achieve your desired look.
SanPly
Wallcoverings and ceilings are only part of what we do at Jacaranda. We also offer architectural grade faces that can be used in virtually any horizontal or vertical applications. SanPly is available in 3- and 4-ply strengths for use in tight radii, corners and curved surfaces, such as automotive dashboards, O.E.M., and reception desks.
Final Thoughts
Stains can transform the look of any wood species and add depth to the grain pattern. You can add additional polyurethane gloss for protection especially in high-impact areas, such as hallways or elevators. Jacaranda offers a wide range of natural wood veneer products for any residential or commercial interior and can help you find the right wood product for your needs. Contact our design team today to learn more or to schedule a consultation with our design team.