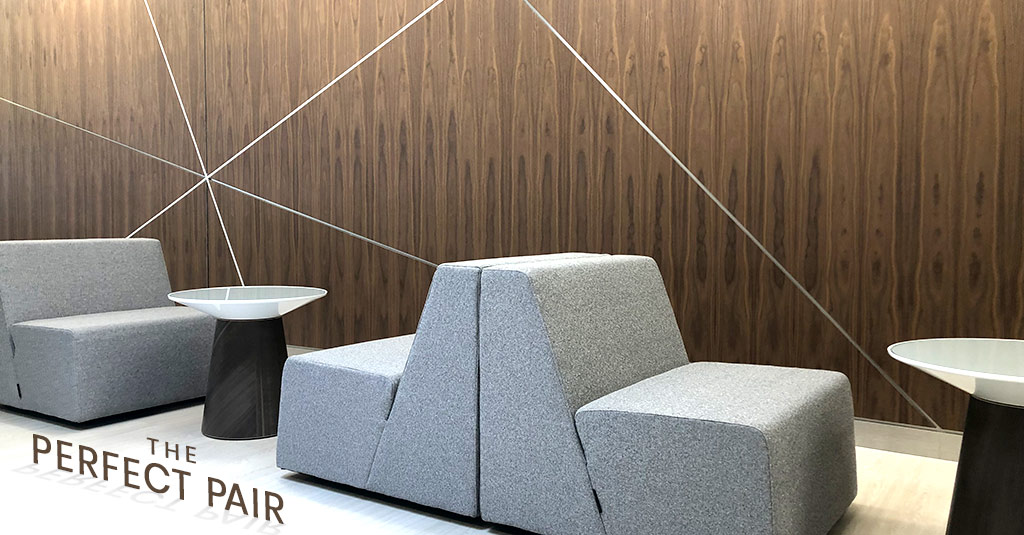 Peanut butter and jelly, wine and cheese, and rest and relaxation: Some things just seem to belong together. At Jacaranda, we believe that our natural wood veneer and Fry Reglet are similarly well-paired. Fry Reglet crafts fine architectural metal products, including LED lighting reveals, and Jacaranda offers a range of fine wood veneer wallcoverings.
In their newest Los Angeles showroom, Fry Reglet uses SanFoot to showcase some of its latest LED lighting reveals. Jacaranda's SanFoot real wood wallcovering can be used in all commercial and residential applications and works beautifully with the LED reveals. SanFoot has a special five-ply construction for maximum flexibility, allowing it to be applied to curved surfaces, columns, and corners without cracking or damage. Our natural wood veneer wallcovering is available in more than 100 species, including rare, exotic and recon species, and it can also be used in adjacent millwork, doors, and architectural panels.
Versatile Design Solutions
Fry Reglet is an Architectural Drywall Reveal System that is designed to work with virtually any wallcovering, including wood veneer wallcovering. Fry Reglet LED Reveals can be installed in walls or ceilings and in a variety of positions to achieve a wide range of effects, including wall washing, ambient lighting, way-finding, and floor illumination. Fry Reglet and wood veneer design combine the best of both worlds. The LED Reveals offer accent illumination profiles that work beautifully with Jacaranda's lines.
Environmentally Friendly Products
Jacaranda's products are FSC-certified, and the company is committed to practicing responsible forestry management. They carefully harvest trees and replace them to ensure a plentiful supply for future generations, and they have developed a technique to get more high-quality veneers from the same amount of wood. Their patented process enables them to get three times as much wood from a single log. To minimize the impact on rare and exotic species, Jacaranda offers a variety of alternatives, including plantation-grown reconstructed and enhanced species, which are used to create consistent patterns and unique burls and figures.
Much like Jacaranda, Fry Reglet is committed to sustainability. They use up to 70 percent post-industrial content to craft their architectural panels, and all scrap material is collected and recycled. Fry Reglet uses an efficient process and one of the earth's most recycled and recyclable materials sourced from several locations to minimize the environmental costs of transport.
Jacaranda, Inc. and Fry Reglet: The Perfect Pairing
Fry Reglet and wood veneer design by Jacaranda work beautifully together using 1/50th of the natural resource and at 25 percent of the cost required by conventional panelized wall systems. Combining these innovative products can give you the results more efficiently, with less work and less expense. Contact us today to learn more about your options or to schedule an appointment with our design team.