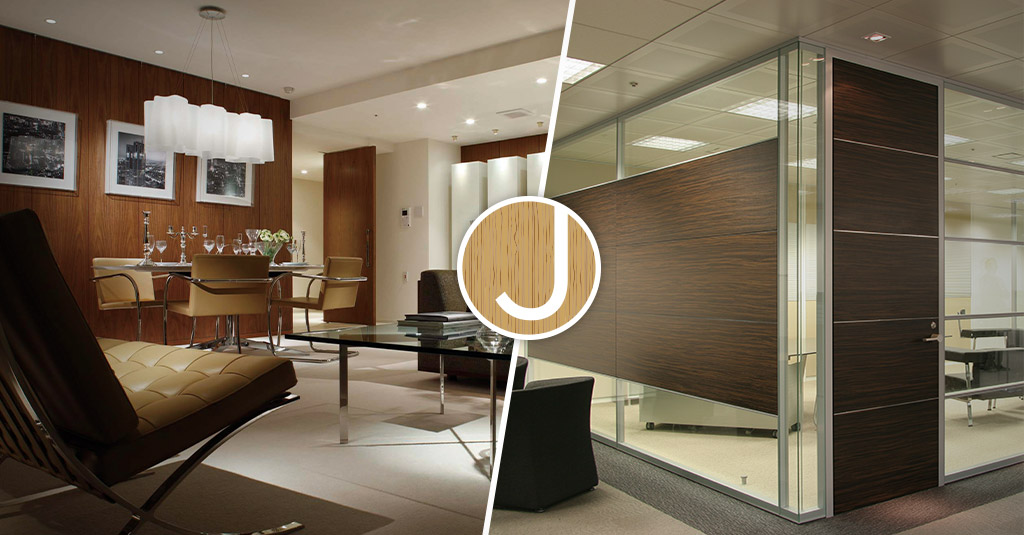 There are hundreds of species of wood throughout the world, and each one has its own unique color, grain pattern and even smell. The way the wood looks can change depending on how it is sliced or cut, and staining can alter its color and the depth of the grain. A polyurethane coating can create a shiny or protective layer. The look of wood can transform virtually any room in your home or corporate facility in an instant, and it does not need to be limited to the walls or flooring. In fact, wood can be used in just about any way and any space you want. Your imagination is almost literally the limit. At Jacaranda, we can help you find new ways to use wood to bring out the soul of your space.
Interior Design for Your Corporate Office: The Wow Factor
1. First impressions count.
Make a dramatic entrance even more powerful by incorporating wood wallcoverings in your entryway or foyer. Real wood veneer wallcoverings from Jacaranda are applied just like vinyl wallpaper and are available in a wide range of species to work with any aesthetic.
2. Highlight standout features.
Is there a feature in your home that you genuinely love that might be getting lost in the busyness? Little nooks, floor-to-ceiling columns, graceful banisters and more can all end up overpowered or even blending into the background. Make them the standout features they were meant to be using SanPly to add vibrant color, pattern, and texture and to bring out their unique look.
3. Create a space.
In residential design, natural wood veneer wallcovering can create a space just for you, whether that's a private little reading nook that houses a comfy couch and fluffy blanket or a statement wall behind your bathroom vanity mirror or in place of a headboard Try TransTec, a revolutionary translucent veneer that's so thin that light can pass through it, and use backlighting features to create a one-of-a-kind look for your space.
4. Try a little luxury.
Walk-in closets in residential design offer all the space for your things, but they tend to be a little drab. Take yours to the next level with wood veneer. Our SanFoot is available in more than 100 species and can create the perfect backdrop for your clothing, shoes, purses, belts, suits and everything else you need to store and create a glamorous look and feel that's truly worthy of a movie star.
5. Don't forget all the little in-between spaces.
Hallways and staircases tend to be overlooked as passageways. We use them to get from point A to point B and rarely stop to look closely at them. Use a bold, burl veneer with a custom stain to stop them in their tracks and an impact-resistant finish to protect your newly installed wood from unwanted bumps and dings.
Don't stop with your home makeover just yet! There's one place that might still need a little bit more "wow." Look up. Ceilings tend to be overlooked with all the attention focused on the walls and flooring. Your ceiling can be a stunning focal point in your home with a wood veneer covering using TransTec or FineTec. At Jacaranda, we work to bring environmentally friendly ideas for interior design for your corporate office or home. We are committed to developing smarter, healthier practices and making wood more accessible. Contact us today to learn more about natural wood veneers or to schedule an appointment with our design team.