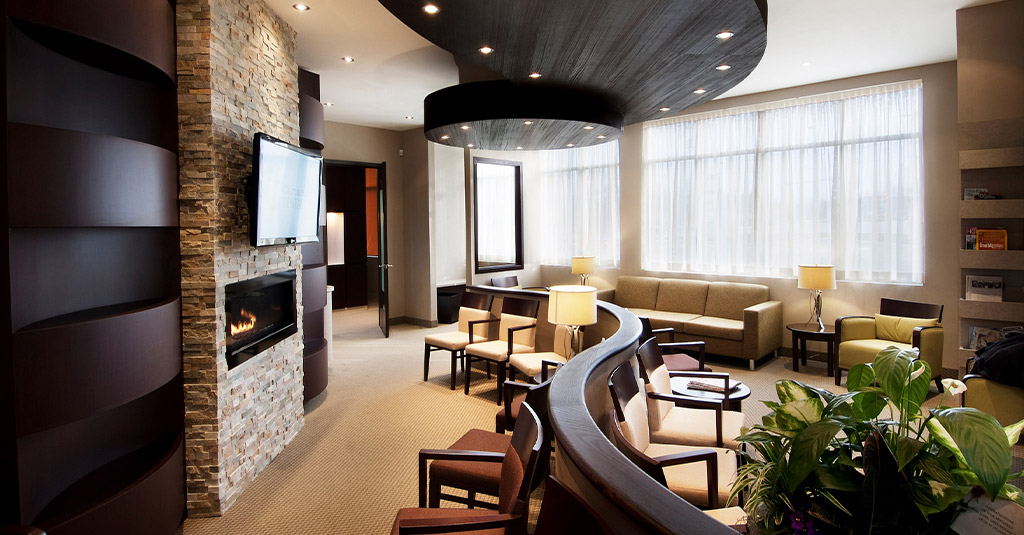 When you think of wood wallcovering, do you think of resplendent mahogany-lined libraries or fresh pine stretching across a woodsy cabin? Wood wallcoverings have been popular for many years, but today, you can find them in more environments than ever before. Jacaranda crafts wallcoverings with the natural beauty of real wood and the convenience and ease of direct-applied wood to walls. They are the ideal wallcovering for any office or corporate building.
To create our one-of-a-kind wood veneer, we cut wood into wafer-thin layers and bond it to backings for surprisingly flexible wallcoverings. Our SanFoot can be attached to columns and 90-degree corners without cracking or breaking, and with the right customization features, it can add the right touch of personality, visual interest and texture to your office or commercial space.
Creating Your Commercial Interior Design
1. Add a pop of color.
While we are used to seeing wood in a palette of browns, creams and oranges, adding a fresh splash of color, texture and shine can give it a surprisingly refreshing update. You don't have to paint your wood to get color these days. Instead, our revolutionary wallcoverings are available in more than 100 species and a wide range of stains, patterns and custom finishes. We can even create custom stains to add vivid color to a room or to create an eye-popping statement wall. Blues, reds and many other brilliant colors are yours for the choosing!
2. Create a work of art.
Add some life to your walls with something more distinctive than plain wood. Jacaranda's SanFoot Unique allows you to turn your walls into a work of art. With SanFoot Unique, you can digitally print your original designs or add laser-cut inlays for a lush feast for the eyes.
Apply your corporate logo or one-of-a-kind designs to a single sheet or across an entire wall using one or multiple colors for a look that cannot be replicated anywhere else. To protect your art, we will complete your wood veneer using a special protective coat of urethane to keep your wood and the digital designs crisp, clear and flawless now and for many years to come.
3. Add light.
Wood wallcovering has gotten a reputation for its dark look, but imagine a wood that was warm, rich and glowing instead. That describes our TransTec, a micro-thin veneer bonded securely to a clear or translucent backing. TransTec can be backlit and used for panels, walls, ceilings, light fixtures and more. It features everything you love about real wood with all the brilliance your business deserves.
About Jacaranda's Natural Wood Wallcovering
When it comes to Jacaranda's fine natural wood wallcovering, your imagination is the limit. We have been crafting wood veneers for more than four decades. Today, we offer numerous wood and wood-based products for walls, cabinetry, architectural panels, millwork and more. Our team is committed to ensuring that we source our wood responsibly and sustainably and use environmentally friendly techniques. We use advanced techniques to get three times as much wood from a single log while still preserving the natural beauty of the wood. With an incredible range of exotic, recon and domestic species in a variety of cuts and visually appealing patterns, our veneers are sure to provide you with the exact look and feel you need. Contact us today to schedule an appointment with our experts in commercial interior design.