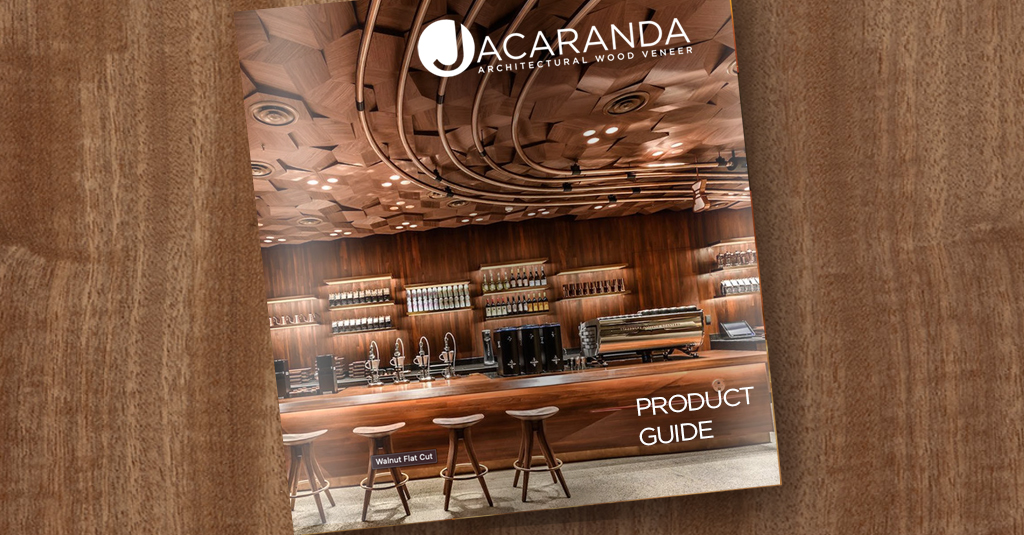 Jacaranda offers an extensive selection of fine wood wallcovering products to match any interior space. We use real wood to craft our veneer wallcoverings, with more than 100 species and several cuts to create the exact look and pattern you want. We also offer unique stains and custom dyes as well as revolutionary products that you can use to create a statement wall, highlight features, or transform your space. Here is a complete guide of our products.
SanFoot
Our flagship product, SanFoot is a one-of-a-kind wallcovering that is ideal for all commercial and residential applications. Our real wood veneer sheets for walls are installed in corporate facilities, the hospitality industry, healthcare facilities, and retail establishments around the world, including in some of the world's finest and most recognizable establishment. It has a natural beauty and brilliant finish that make it especially appealing in spaces that must be both aesthetic and functional.
SanFoot is made using real AA-architectural grade wood veneer species. You can apply it much like conventional vinyl wallcoverings without the need for specialized tools or techniques. The wood is cut thin and applied to versatile backings, which make it possible to apply to curved and contoured surfaces, including columns and corners. Our sequence runs are large and allow for end-matching, making it ideal for those larger projects, such as ceilings or long walls.
SanPly
SanPly is an architectural-grade face made using multiple layers to create real wood sheet veneer that you can use in both horizontal and vertical applications. SanPly-3 is typically used in O.E.M. manufacturing and the auto industry as well as woodworking and case-goods. It comprises three players for maximum flexibility and versatility. SanPly-4 has an added fourth layer to maintain flexibility while improving stability.
FineTec
Not all wood species are regularly or readily available. Our revolutionary FineTec allows us to craft simulated exotic species, rare burls, and unique designs using consistently available wood species. FineTec improves not only availability but also price and consistency, making luxurious woods such as ebony and zebrawood more accessible and affordable.
TransTec
Translucent wood might seem like a dream, but TransTec makes it a reality. TransTec is sliced thin and bonded to clear or translucent backers, which allows light to pass through for brilliant, glowing results. You can use TransTec for light fixtures, panels, statement walls, or even ceilings to create a brighter, more beautiful space using our high-quality wood veneers.
RealTec
We use a special proprietary process to physically alter our quarter-cut veneer and enhance it to create consistently figured, sequenced sheet wood veneer. The resulting "fiddle-back" figure design is permanent and cannot be sanded out or otherwise removed. You can stain it, dye it, and finish it without negatively affecting the final appearance. All our wood veneer sheets for walls are available with RealTec Technically Enhanced Wood Veneer.
Each of our real wood veneer products comes prefinished with two coats of polyurethane finish with a 30 percent sheen. Custom finishes and stains are also available. You can choose from more than 100 species as well as rare, exotic, and recon species to complete the look you want. With a long history of completing projects in numerous industries, we can help complete your projects and create the space of your dreams. Contact Jacaranda today to learn more or to schedule an appointment with our design team.