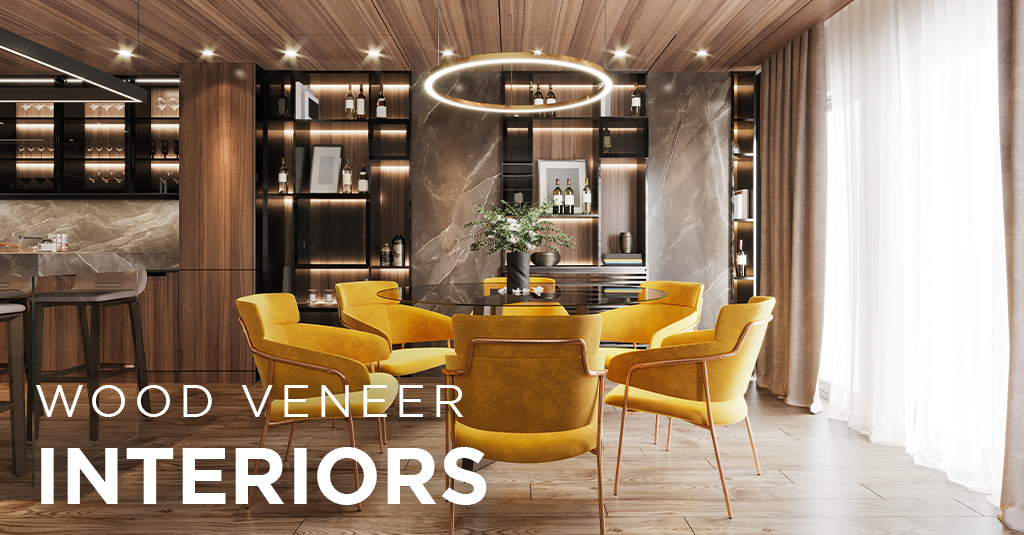 Wood is one of the most common building materials in the world due to its functionality and eco-friendliness. However, it is also one of the most luxurious decor materials, conveying a feeling of elegance and exclusivity. Wood veneers have a rich history, decorating tombs of ancient Pharaohs, furniture in Pompeii, and intricate marquetry during the Renaissance period.
Today, wood veneer continues to be used in luxury design and can be incorporated into any decor element. We are increasingly seeing many homeowners, businesses, organizations, and others turn to wood to give their spaces an extra touch of something truly special.
Veneer can be used almost anywhere and on anything, from walls and cabinetry to flooring and doors. Wood veneers are also frequently used in furnishing, decor, and even vehicle dashboards and panels. To make veneer, we slice wood extremely thin and bond it to a substrate. This substrate can vary based on what the final product will be. However, we can use a variety of strong, flexible substrates for a sleek, finished wood product that is as versatile as it is beautiful.
While wood veneers are made using real wood, they offer a few benefits over conventional solid wood products. They are faster to manufacture, and the cost is lower. The thinner design allows for greater flexibility, and our SanFoot veneers can be applied to curved and contoured walls and even columns and corners.
Options for Veneers
Today's veneers are a far cry from those of yesteryear. Modern veneers run the gamut from simple natural wood wallcoverings to rare and exotic recon veneers with one-of-a-kind burls and custom stains and finishes to create a unique look for your space. At Jacaranda, our veneers are made using real wood sliced wafer thin. We use a variety of cutting techniques to bring out the natural beauty of each species of wood and each log. The thin slices of wood are sawed, planed, and processed before being bonded to their substrate, and we stain them to highlight the natural patterns in the wood. Finally, we finish the veneer with a double coat of urethane for added shine and impact resistance.
You can choose from one of more than 100 common, exotic, and recon species and many standard stains or dyes to personalize your veneer choice. We also offer custom stains and finishes to customize your veneer even more as well as digital printing to add images, branding, and more.
Veneer Versatility
Wood veneer interiors work almost anywhere from entryways and living spaces to classrooms and concert halls. Our veneer products can be found in some of the most well-known structures in the world, too, including Disney, Microsoft, Mayo Clinic, Alice Tully Hall, and the Tropicana. It comes prefinished and ready to apply, but because it is real wood, it can be sanded, stained, and used just like any other real wood product.
SanFoot applies much like a vinyl wallcovering and requires no special tools or processes. Backed by a Class A Fire Rating, our wood wallcovering comes ready to apply and is numbered and book-matched for easy installation. Within days, you can have a lush, beautiful new luxurious statement wall or an eye-popping new wall treatment for an entire room or building using our real wood veneers in ebony, mahogany, cherry, or Brazilian rosewood.
Contact Jacaranda today to learn more or to schedule a consultation with a member of our design team.