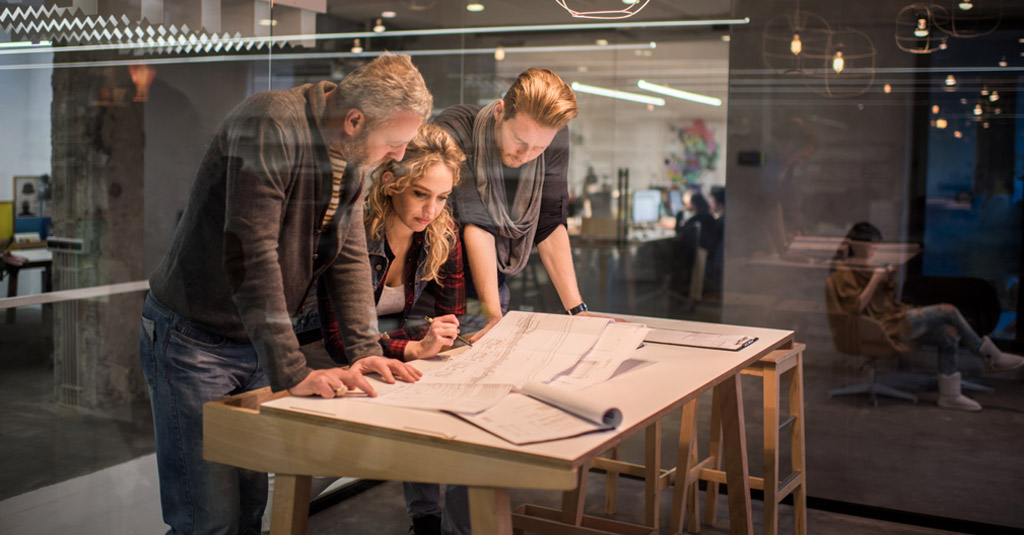 The New Year is a great time to make those changes you've been putting off all year long. If you own or manage a business, the New Year can also be a good time for you to transform your corporate space. Whether you want to breathe new life into your office space or completely revamp the customer area, this is a great time to do it. Jacaranda can help you bring your visions to life.
Business Refresh
Regular updates can keep your business feeling fresh and modern even if you don't do a complete makeover. One way to do that is with necessary repairs to keep your office well-maintained and in excellent condition. However, you can also take steps to give your office a facelift with an appealing new look. Consider adding a statement wall, updating the reception area or including a few key pieces to the entryway.
SanFoot architectural wood veneer is versatile and extremely pliable. It's designed with flexibility in mind and can be applied to curved surfaces such as columns, corners and tight radii without cracking, splitting or warping. SanFoot can add a look of distinction and sophistication to any corporate environment.
New Year, New Opportunities
Ending the year on a high note can send your motivation to build on new ideas soaring. This is a great time to re-evaluate your displays and front-end areas. They should reflect your brand while still enhancing the appearance of your products. A digital image wallcovering can be a great way to do this. Jacaranda's SanFoot Unique offers unparalleled customization options for you to digitally print your original designs or add laser-cut inlays in real wood veneer. The designs can be added to an individual or multiple sheets and in single or multiple colors. The sheets are then finished using a durable polyurethane coating for shine and protection against wear and tear.
Lighten Up!
Clean, uncluttered looks rule the modern office interior design scene. You can keep that fresh, sleek feeling with TransTec, a translucent real wood veneer that is available with a selection of backings to allow for maximum versatility. You can use TransTec in panels, walls, ceilings and light fixtures, and it's available in most SanFoot wood species and cuts. It can be bonded to most translucent substrates, including glass and acrylic, allowing you to transform virtually any space, with the beauty and brilliance of light.
Using Real Wood Veneer in Interior Design
Jacaranda makes it easy to get the look you want. SanFoot is a versatile wood veneer wallcovering that can be used for all commercial applications and interiors. Its natural beauty combined with a hard-wearing finish makes it the perfect solution for hospitality, retail, corporate, healthcare, education and transportation interiors. You can choose from more than 100 species, including recon rare and exotic species. Each sheet is Class A fire-rated, and architectural-grade veneers are available in large sequence runs with end-matching abilities for projects with large coverage needs. Contact our interior design specialists today to learn more or to schedule an appointment.