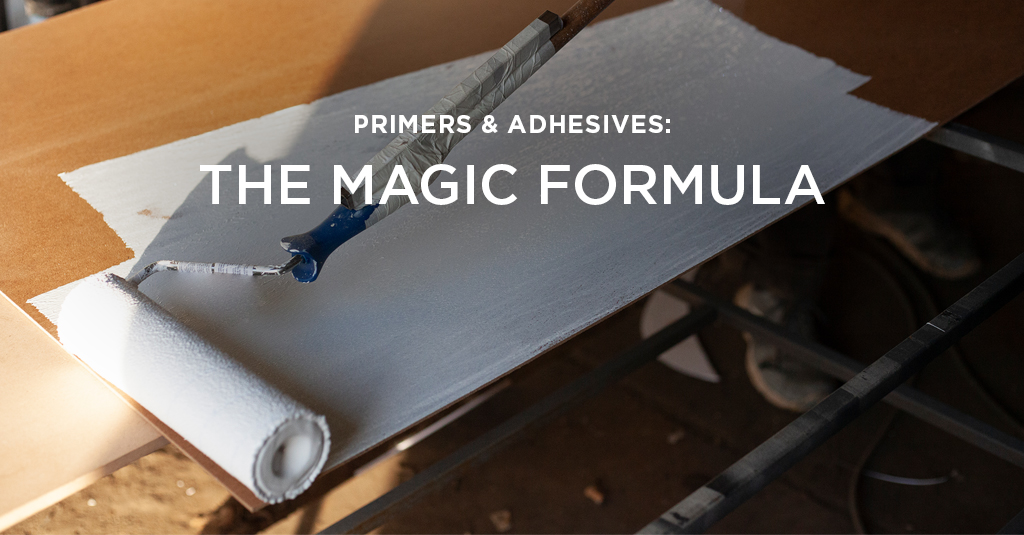 Jacaranda's SanFoot and other wood wallcoverings are quick and easy to install. They use the same tools used to install conventional vinyl wallcoverings. The secret to a flawless installation is in the preparation. Taking the time to prepare the substrate will ensure your SanFoot looks and functions beautifully for many years to come. For the best results, you need to use the proper primers and adhesives. Read on to learn more about the magic formula of primers, finish, and preparation for your new Jacaranda wallcovering.
The Secrets to Installing SanFoot
Primers
Primer is the first step in installing your wood veneer wallcoverings. The primer prevents adhesive from absorbing into the surface of the wall and ensures there are no dry pockets. If you have walls that were painted or primed previously, you should lightly sand them to break the seal and then prime them again. We recommend using specific primers with SanFoot wood veneer sheets for walls. Do not use oil-based or alkyd primers with Jacaranda products.
We recommend using the following primers:
• Bull's Eye 1-2-3 Primer Sealer for use as a tinted primer, over painted surfaces, or over a wood substrate
• Shieldz Universal Plus Primer over plastic laminate, new or clean drywall, or in areas where mold or mildew may be a concern
• Guardz High-Performance Sealer over damaged drywall or loose paint
• PRO-935 (R-35) or PRO-977 Ultra Primer by Roman Decorating Products
After applying the primer to all surfaces according to the manufacturer's directions, allow it to cure for at least two days before installing SanFoot.
Adhesives
Once the surface is primed and cured, you will need to prepare the wall surface with an approved adhesive. Jacaranda does not recommend using clear or clear strippable adhesives with our wood veneer wallcoverings. Use only approved adhesives as specified, including:
• PRO-732 Extra Strength Clay Based Adhesive and PRO-774 Clay Strippable from Roman Decorating Products
• Dynamite 111 Heavy-Duty Clay and Dynamite 423 Heavy-Duty Clay Strippable from Gardner-Gibson Products
You do not need to thin or dilute the adhesive. You can simply whip or stir it to the desired consistency and apply it full-strength to the back of the SanFoot sheets. Each sheet should be thoroughly coated and given ample time to tack before hanging. You may also wish to apply adhesive to the primed substrate as well.
SanFoot comes prefinished with a durable high-quality, high-shine urethane sealer and finish, so once you install it, your job is complete. It is ready to enjoy!
About Jacaranda
Jacaranda has been making high-quality wood veneer sheets for walls for more than four decades. Our family of products includes SanFoot, SanPly, FineTec, and RealTec, available in more than 100 species and numerous cuts, colors, and designs with virtually endless customization options. Visit Jacaranda today to learn more about installing wood veneer wallcoverings or schedule a site visit with one of our design specialists.