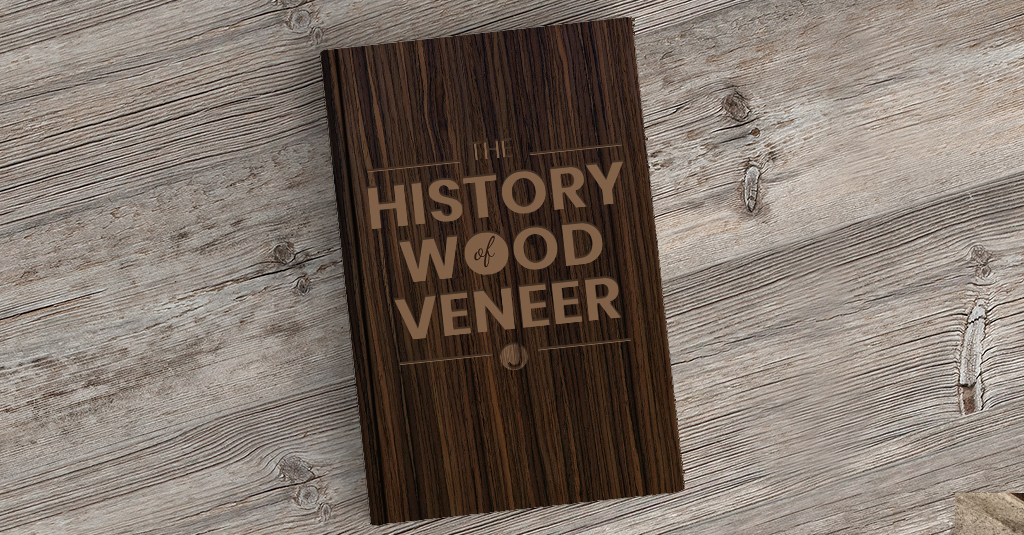 At Jacaranda, we are proud to use the latest techniques and technology to craft SanFoot and our other natural wood veneer products. From classic oak to lush mahogany, wood wallcoverings are perennially popular. They never go out of style. By using veneer to craft our SanFoot wallcoverings, we can create products that are not just beautiful but also versatile and eco-friendly.
The Earliest Veneers
Wood veneers are not new. They date back to Ancient Egypt. Nearly 4,000 years ago, the earliest veneers were being applied to the tombs of the pharaohs to add decorative flair. Each veneer was carefully sawn and then bonded to the underlying material. In this way, artisans could craft intricate ebony and ivory patterns without compromising their scarce supply of wood: logs they had imported from Syria and Phoenicia. As the years passed, they developed more advanced techniques for shaving veneers and special saws to slice off the thinnest possible layers. All of this work was done by hand, making it a time-intensive process, a labor of love.
Veneering as an Art Form
Veneers were also used in Europe around this time but were rare until after the Middle Ages. Interest in the art form was piqued during the Renaissance, however. By the 17th century, French ébénistes and woodworkers were using ebony, tiny pieces of burl, and other exotic bits of wood to craft lavish works of art. They developed even more highly specialized tools, further advancing and refining the art of veneering. Their work ultimately set the scene for English designer Thomas Chippendale.
During the Renaissance, furniture designers began moving away from strictly utilitarian pieces and towards creating beautiful standout pieces. Chippendale burst onto the scene with furnishings designed to stand the test of time. His veneered furniture often featured elaborate motifs and breathtaking designs, which advanced the art just a little bit further.
Wood Veneer Today
The invention and patenting of the cutting lathe paved the way for high-speed production and easier accessibility. By the 1970s, furniture manufacturers had developed techniques to create incredibly thin veneers without compromising the structure or function of the wood.
This was about the same time that Jacaranda's founder became involved in the veneer trade. Although working for Exxon at the time, he had an opportunity to export veneer-quality logs. He soon joined with the founders of Hokusan, a Japanese company, to create Jacaranda, named after Brazilian Rosewood. Since then, Jacaranda has revolutionized the veneer-making process. They use sustainable tree harvesting methods and a patented veneer-cutting process that gets three times as much wood from a single log.
Jacaranda veneer is available in more than 100 species and can be used for wallcoverings, cabinetry, furniture, architectural panels, moldings and more. A variety of cutting techniques, laser printing and more can be used to create eye-catching patterns and designs. We have never wavered from our commitment to quality and are pleased to bring this timeless art form to you and your home or corporate space.
About Jacaranda, Inc.
We offer SanFoot, FineTec, RealTec, TransTec, and other fine real wood veneer products. Our natural wood veneer is fully customizable with a range of stains and finishes. Our veneer is applied much like vinyl wallcovering and requires no special tools or adhesives to apply. All are Class A fire-rated. Jacaranda is a member of the Forest Stewardship Council and the U.S. Green Building Council. Call us today to learn more or to schedule an appointment with our design team.