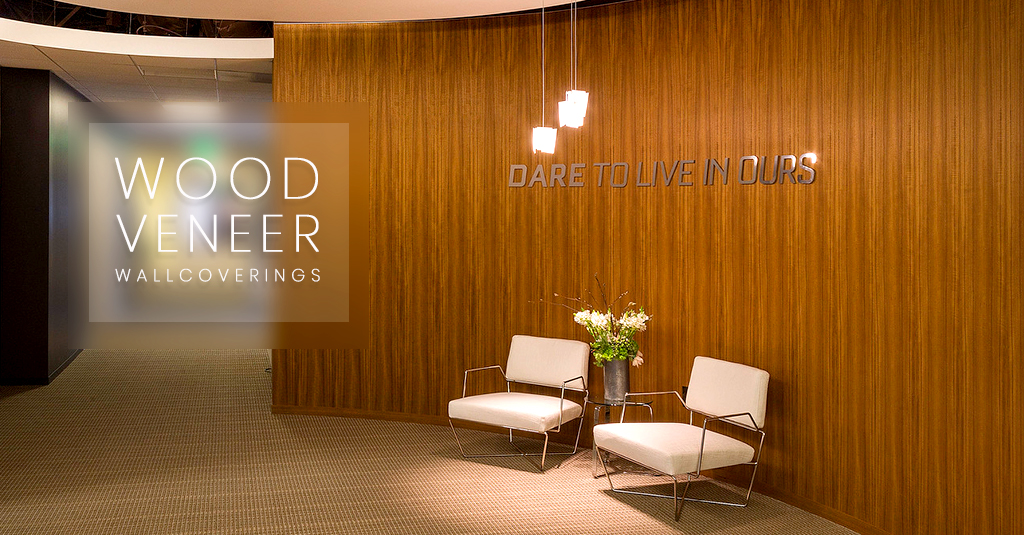 What makes real wood veneer wallcovering different from other design choices? When it comes to corporate design, you have a lot of options, but biophilic design elements in general, and wood in particular, are becoming increasingly popular. Wood has a warm, lush feel that is naturally appealing, but its benefits go far beyond its design. Here are three great reasons you should consider wood veneer wallcoverings for your corporate design.
Easy Maintenance
Natural wood products are easy to maintain. Wood is strong and durable, and with good care, it can last for generations. Even better, veneered wood has an added layer of protection because it is bonded to a secure backing and covered with a polyurethane coating that emphasizes the natural beauty of the wood beneath.
To keep your wood veneer wallcovering looking as beautiful as the day it was installed, simply dust it regularly using a soft dry chamois cloth in the direction of the wood grain. If the wood is especially dirty or grungy, add a few teaspoons of dishwashing liquid to a gallon of warm water and use a cellulose sponge to clean small sections. Dry immediately using a clean, soft cloth and polish.
Do not use products that include bleaching agents, ammonia, or scouring agents. Avoid waxing, which can leave a hazy film over the protective coating. Clean spills or splashes promptly.
Easy Installation
Jacaranda's wood veneer wallcovering is thin and flexible and can be made with a variety of backers. You can install it much like you would install any vinyl wallcovering. The primary difference is that you may need to take precautions before installation to ensure all essential conditions are met due to the special needs of the wood. Walls may need to be primed and cured before the wallcovering can be installed. Then, you can install them using the consecutively numbered natural veneer sheets as a guide. Smooth and wipe clean, and the process is complete.
Caring for your real wood veneer wallcovering ensures it continues to provide you with years of beautiful service.
The Wow Factor
For centuries, wood solutions have been used for building and design. As a material, it is strong and versatile, and structures built with wood can last for centuries. Wood is more than just physically durable, however. We connect with it on a deeper level. As a once-living organism, wood retains a warmth, energy, and beauty that few other materials do.
Incorporating natural veneer sheets and other biophilic elements into your interior design can bring a sense of peacefulness and relaxation. While it is a popular material for spa-like environments, wood can also be styled in a wide range of finishes or even dyed to create a vast array of patterns and looks to match virtually any design scheme, from classic to modern. With wood, you can add texture, color, and even quirky personality to any space for that one-of-a-kind "wow factor" that really makes your place stand out.
About Jacaranda
With more than four decades of experience in the field of high-quality wood products, Jacaranda has developed a line of premier wood solutions, including SanFoot, SanPly, FineTec, and TransTec. Each product is responsibly sourced and sustainably harvested using environmentally friendly techniques to maximize the yield of each log. We use a variety of cuts, dyes, stains, and finishes to provide you with a wealth of options for personalizing your veneer products. Contact us today to schedule an appointment with one of our installation specialists.