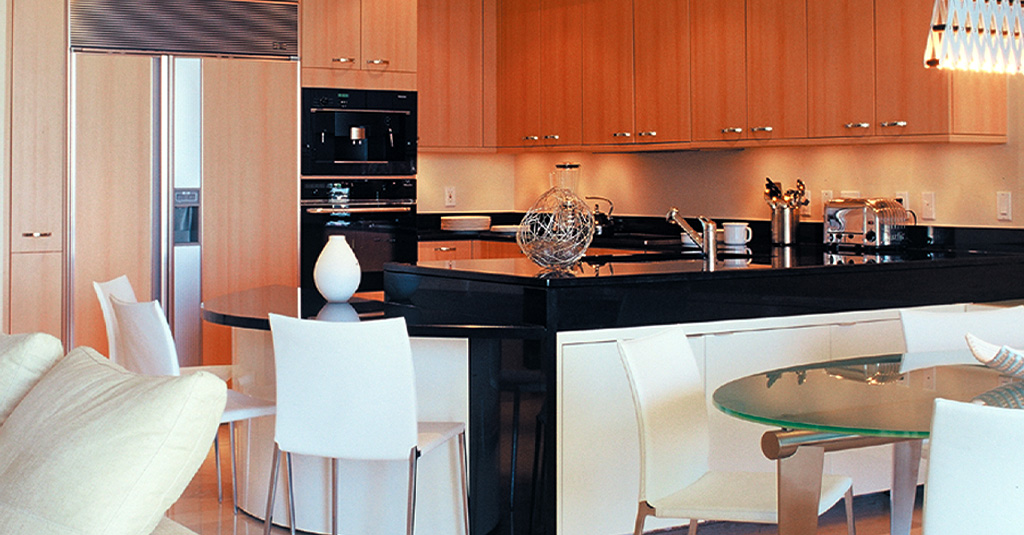 When you think of wood veneer, what do you imagine? This brilliant, versatile material dates back to the ancient Egyptians, who used it to create elaborate designs in the tombs of their pharaohs, but as the years passed, the uses became more extensive and varied with artisans using veneer to craft luxurious furnishings and decor. Veneer-making has evolved and so have the uses for veneer, and today, you can spot veneer in everything from millwork and wallcoverings to furniture and decor.
Much like the original, wood veneer today is made using paper-thin layers of wood bonded to more secure cores. This design strengthens and stabilizes the wood to prevent temperature-related expansion and contraction, a common problem for solid-wood pieces. Wood veneers are an elegant, sustainable choice in modern home decor and interior design ideal for any space in your home or office.
The Versatility of Wood Veneers
Solid wood is often used to craft furniture and other everyday items, but wood veneer is simply superior for many applications. Wall coverings, paneled or built-in fixtures, cabinetry, and any furnishings with moving parts are typically more stable when made with wood veneer. A veneer is still real wood with all of its benefits, but because it is bonded to a strong substrate, it will not warp or crack over time. The results are a seamless, natural beauty and a turnkey solution for your home or office.
Wood veneers are also entirely customizable. Striking oak, maple, cherry, or mahogany can add dimension to a room with a touch of luxury and elegance. You can use veneers alone or combine them with other materials and accents to create a stunning, one-of-a-kind look. Steel and cement fixtures can create a sleek, modern-looking space. Add plants and jute rugs instead for a more natural boho feel. You can even use wood veneer to create eye-popping statement pieces, such as custom light fixtures or laser-cut accent walls.
The Benefits of Wood Veneer
A perennially popular choice, wood veneer is naturally beautiful. Each piece of real wood has a unique pattern that repeats across the sheets when the veneer is sliced. Special slicing techniques allow for variations in the pattern and repeating designs that appear to "move" across the wall in an eye-catching pattern.
Wood veneer is also an environmentally sound choice. Because it is made with real wood, it is a sustainable building material. At Jacaranda, we go the extra mile to ensure it is even more sustainable with a patented veneer slicing method that enables us to get three times as much veneer from a single log as traditional methods allow. We also choose our wood carefully, using plantation-grown trees from plentiful species and individual trees from old-growth forests to craft our fine veneer products without negatively affecting threatened species.
Contact Jacaranda today to learn more about our extensive selection of wood veneer products such as SanFoot or to schedule a consultation with a member of our design team.