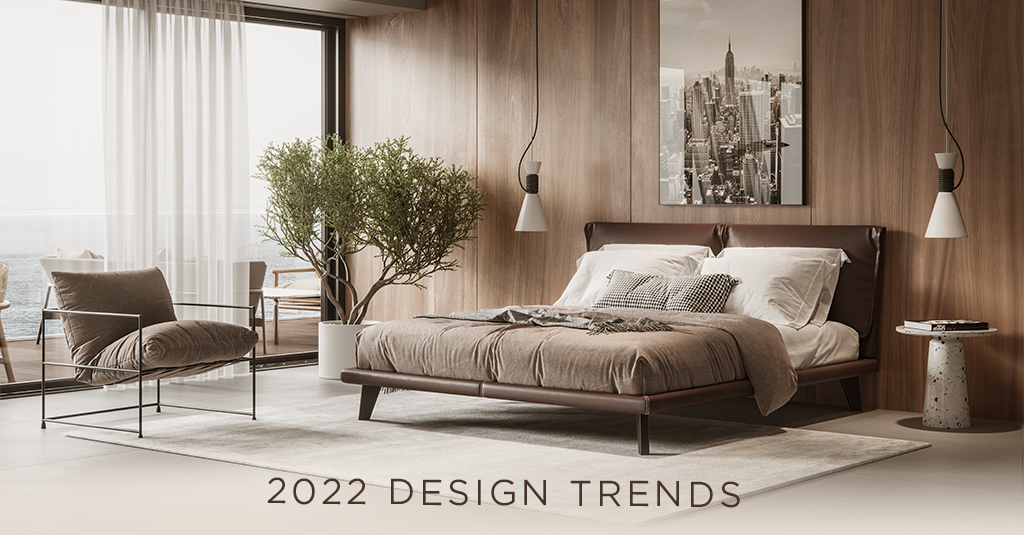 In the new year, many of us are eager to embrace change, and that desire is spreading into all aspects of our lives, including our living and working spaces. Coming on the heels of several challenging years, trends are focusing on finding beauty in the flaws and appreciating the thorns among the roses. Much like the Japanese art of Kintsugi, or golden joinery, this trend is deeper than a mere aesthetic and allows us to embrace the loveliness of the process. Here is what you can expect to see in 2022 interior design trends as you begin to transform your space for the upcoming seasons.
Soothing Neutrals and Naturals
A natural palette will always be on-trend. Instead of just rehashing standard cream, beige, and tan wall paints, consider livening up a neutral wall with the comforting texture of wood. From rich mahogany and deep rosewood to white oak and blonde maple, wood is available in a lovely array of neutral earthy colors to give your space a zen-like feel. They provide the perfect backdrop for other natural elements in your home, too, from jute rugs to woolen furnishings, for lush visual interest and grounding features.
The natural elements also nod to the trend towards biophilic design, bringing nature inside the home or office. Biophilic design can help reconnect you to the natural world, reduce stress, relieve stress, and stimulate creativity and productivity.
Vintage Materials
You might have heard the terms "cottage core" or "granny core" recently. While often used to refer to fashion, vintage looks are making a comeback everywhere, including interior design. Expect to see vintage furniture and vintage-inspired wood veneer wallcovering in 2022. You can source budget-friendly furnishings at resale shops while Jacaranda has eco-friendly wood wallcoverings that are available in more than 100 species and a variety of cuts and colors. You can use our wood as a statement wall, to highlight a specific feature, or to create a beautiful vintage feel throughout your space.
Sustainable Trends
Sustainable materials are soaring in popularity in 2022 interior design trends. Whether upgrading old appliances to new Energy Star appliances or transforming your old space with new materials that are reclaimed or ethically sourced, it feels good to make environmentally friendly choices that are making a difference not just now but in the future.
At Jacaranda, we use only sustainable and ethically sourced wood for our real wood veneers. Wood is the original green building material, but Jacaranda goes a step further, carefully choosing individual trees from both old-growth forests and plantations and developing and manufacturing products that ensure the highest yield while reducing waste to minimize the effect on the environment. Our methods are so effective that what once required three trees now only needs one.
If you are ready to shed the old and embrace something bright, fresh, and promising, Jacaranda is right there with you with a wide selection of products. Contact us today to learn more about SanFoot and our other natural wood veneer wallcovering or to schedule a consultation with a member of our design team.