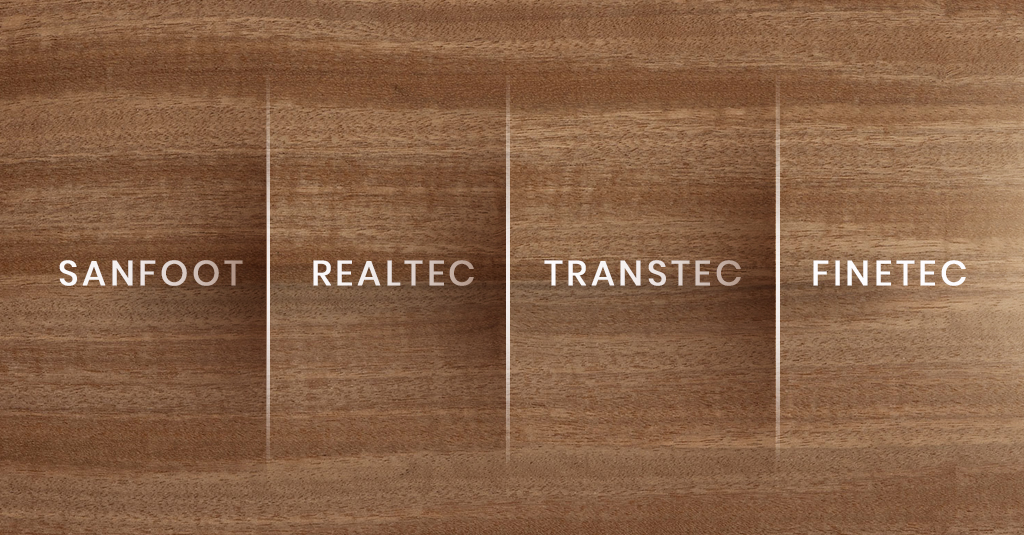 Jacaranda's real wood wallcoverings are prized for their versatility and flexibility. They can be used virtually anywhere and in any commercial or residential application, offering lasting durability even in high-traffic areas.
SanFoot
Jacaranda's flagship product, SanFoot is a natural wood wallcovering with a one-of-a-kind five-ply construction that ensures maximum practicality. Its thin cut is backed by a uniquely flexible material that can be applied to curved and contoured surfaces, including columns and corners. Each of our real wood veneers is made with real architectural-grade wood in a wide variety of species, cuts, and colors and can be applied just like vinyl wallcovering for fast, effective installation in any residential or commercial environment, including:
Healthcare facilities
Corporate offices
Transportation interiors
Hospitality industries
Educational facilities
Public spaces
And more
SanFoot is ideal for large or small projects.
RealTec
Jacaranda's RealTec enhanced wood veneer offers consistently beautiful results. To create RealTec, we use a proprietary process to alter quarter-cut veneer to create a fiddle-back figure that cannot be sanded out or altered by staining or dyeing.
As with SanFoot, RealTec wood veneer is available in dozens of species, colors, and finishes in figured, sequenced sheets that can be applied to curved or flat surfaces just about anywhere.
TransTec
Wood is often used to cover walls or floors or as furnishings. Imagine wood used in light fixtures, lit from within by a soft, warm glow. That describes TransTec, our transformative veneer, which is thin enough for backlighting or light diffusion to create everything from light fixtures and panels to glowing walls and ceilings.
TransTec offers the same flexibility and versatility as SanFoot and is available with a variety of backers to allow for a customized level of translucency. TransTec comes in most of the same species and cuts that SanFoot and SanPly do and with fabric or acrylic backers to allow for a variety of applications and specifications.
FineTec
When only the finest will do, FineTec offers you alternatives to exotic species using readily available wood species. Jacaranda uses a special technique to reconstruct real wood veneers to simulate rare burls and exotic species, such as ash, ebony, wenge, and zebrawood. FineTec can help you create the look you want without sacrificing quality, your budget, or availability.
As with other SanFoot products, FineTech does not require any special tools or procedures and can be installed just like vinyl wallcovering. It is prefinished with a double polyurethane coat and 30 percent sheet. Custom finishes and stains are available to create your preferred look, and you can add millwork or architectural details for a turnkey solution.
About Jacaranda Inc.
For more than four decades, Jacaranda has been a leading manufacturer of fine wood materials. Today, their line of products includes natural wood products that can be used in all specialty applications, millwork, cabinetry, wallcoverings, and more. Each of our products is available in a wide range of species, cuts, colors, stains, dyes, and finishes to create the exact look you want for your space. Contact Jacaranda, Inc. today to learn more about your options or schedule an appointment with a member of our design team.